Peek Inside Goop's Santa Monica HQ (Formerly a Chicken Coop)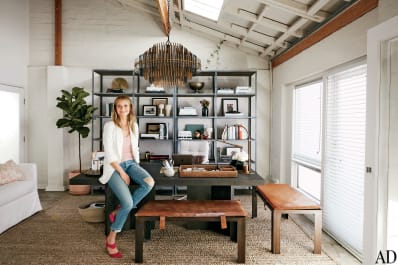 (Image credit: Douglas Friedman / Architectural Digest)
Gwyneth Paltrow's lifestyle brand, Goop, is nearly a decade old, and up until a year and a half ago, the company was located in a barn at Paltrow's home. The actor turned entrepreneur moved the operations to a warehouse space in Santa Monica that has quite an interesting former use case.
The no-frills space once served as a chicken coop. Now, the Goop coop (we can't confirm they call it that, but we sure hope so) has been redesigned by the interior design team at RH.
"We wanted to preserve the spirit of our first office—raw and energetic, filled with natural light, very California," Paltrow told Architectural Digest. "The warehouse has a similar vibe. It's tough and industrial, but you also feel the ocean close by."
(Image credit: Douglas Friedman / Architectural Digest)
AD describes the space as "modernist restraint punctuated by moments of sculptural brio," which you can definitely see in the lighting choices, especially the '70s inspired Emile chandelier in Paltrow's office. "I don't have a very broad aesthetic," Paltrow adds. "I like beautiful materials and nice textures, simple gestures that elevate your experience of a room."
There's definitely a more minimal palette and rustic feel in the Goop office than in, say, Paltrow's pastel penthouse in New York, which recently came back on the market for $10 million and is now under contract.
(Image credit: Douglas Friedman / Architectural Digest)
Elsewhere in the warehouse, multifunctional work and lounge spaces are punctuated by sofas and big brass pendants. "The RH team understood that we needed something sophisticated but in no way...overbearing. They really grasped the Goop ethos," says Brittany Pattner, Goop's creative director. The space also features a test kitchen designed by Sam Hamilton of SF concept store March with firm Union Studio.
Goop has been holding pop up shops around the country since 2014, but this summer will bring the brand's first permanent store in Los Angeles.
Check out the full story in Architectural Digest's latest issue.