You Don't Need to Spend $2,000 to Do a Peloton Workout — and It's Still Just as Effective
We
independently
select these products—if you buy from one of our links, we may earn a commission. All prices were accurate at the time of publishing.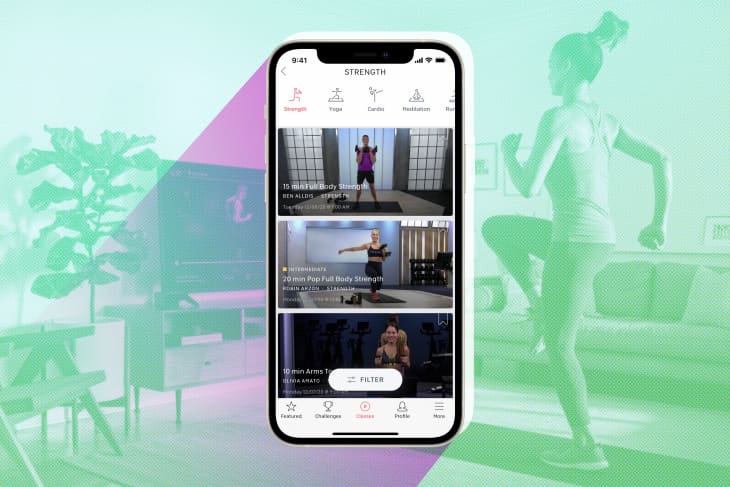 Before gyms shut down early last year, workout classes took up a significant portion of my monthly budget. Between a regular gym membership, one-off classes at various studios, and gear for the occasional at-home workout or outdoor run, I would spend hundreds of dollars each month in an effort to move my body. At the time, I considered it a worthwhile investment: The variety kept me from getting bored, and friends and I would often use our workouts as time to bond (OK, and complain) together.
Fast forward to April 2020, when at-home workouts suddenly became the only option for many of us. I scrambled to find a workout routine that would stick. I signed up for paid app subscriptions, downloaded free ones, hunted around YouTube, and joined Instagram Live. What I really wanted was a one-stop-shop housing every workout I might be in the mood to do — a digital version of my old gym. It wasn't until I bought a Peloton spin bike that I accidentally found the solution.
Enter the Peloton app, which is available to anyone, no purchase of a pricey machine required. In fact, the app is more cost-efficient if you aren't using your membership on a Peloton machine — for $12.99 a month, you have access to hundreds of workouts, with new ones recorded and uploaded daily. (By contrast, I pay $39.99 a month for a bike-compatible membership.) You can access the classes on your phone, laptop, or even a smart TV, which means that almost any room you want can become your all-in-one fitness studio.
To test out the efficacy of an app-only workout, I challenged myself to take only app-based classes for one week. The app offers classes in a variety of categories — including strength, yoga, pilates, barre, cardio, and meditation — and you can quickly sort through classes based on how much time you have, specific focus areas, and music. I started out with a strength workout set to an upbeat pop soundtrack.
Don't discount the power of the 10- or 15-minute classes, either, as Apartment Therapy's Entertainment Editor Nicoletta Richardson can attest. She tried a 20-minute bodyweight strength workout by Jess Sims, and was admittedly skeptical that it would be enough, given her love of longer workouts. "I felt like I did NOT want to do another workout — mission accomplished," she remembers. "It was a simple format to follow and lots of repetition involved, which was great because that's how you build endurance strength over time, and then we did an EMOM burner at the end to make sure we got out any energy at the end."
Overall, Nicoletta called the class "a good sweat sesh that proved shorter time doesn't mean less work, and it was bodyweight so great for anyone who doesn't have equipment at home." That's helpful if you can't get your hands on a set of dumbbells right now — and while I've cobbled together a few sets over the past year, there are certainly days where I feel too sleepy or uncoordinated to pick up something heavy and risk dropping it on my floor.
While there's no replacing the intimate feel of a Zoom workout with a trainer who can watch your form, instructors will occasionally shout out members taking live classes. If you're worried about form, I'd suggest working out near a mirror so you can eye how your posture lines up with that of your instructor on the screen. I'd also recommend seeking out their "basics" classes if you're unsure of a move or new to a new format — as a Pilates novice, I appreciated the slowed-down cadence and step-by-step instructors to master each move.
By the time my one-week experiment ended, I had tried three strength workouts, two 10-minute core workouts, a yoga class, a pilates class, and four meditation classes as I fell asleep. Some classes were easier than others — one Friday, after a tough week, all I wanted to do was a quick yoga class that all but let me chill in child's pose the whole time, and I could find it easily.
The only downside I could think of was the time I would need to spend canceling my other paid apps and deleting them from my phone, because the Peloton app effectively collapses them into one easy-to-use place. Now, I might never go back to a gym once they re-open — because my gym lives in my phone.