Penny's Lovely Floating Amsterdam Abode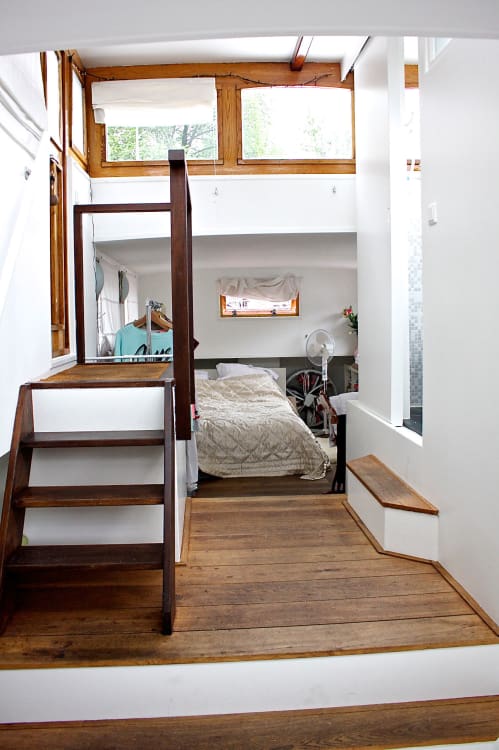 Name: Penny Lee
Location: Amsterdam, The Netherlands
Size: 55 square meters (592 square feet)
Years lived in: 7 years; Owned
Penny Lee, an art director and designer from Yorkshire, has been based in Amsterdam for the past ten years. Over the last seven years Penny has created a very chic and modern home in a houseboat located on the Amstel River, directly in the city center. Docked in one of the busiest parts of town, her clean, minimal home is an amazing contrast to the lively and vibrant city outside. It was certainly a special day for me to be invited into this cheery abode!
Penny's hand-selected items represent her fun, fresh and flirty style while giving her houseboat a big personality for such a small space. I love the soothing white palette with splashes of hot pinks and blues from magazines, pictures and paintings. She was absolutely spot on in saying that her style is "white, light and airy-easy lovely living."
Penny's home truly embodies the Amsterdam experience — she soaks in the Amsterdam culture while enjoying daily life on the picturesque river. I was a particularly big fan of the coziness surrounding her fireplace — big comfy couch, fluffy pillows and an assortment of fun reads. It feels like the whole home is one little nook, a place where you want to kick back, relax, listen to the boats putter by, and really enjoy the sweet surroundings. Thanks for the invite, Penny!
Apartment Therapy Survey:
My Style: White, light and airy-easy lovely living.
Inspiration: Martin Margiela x boating life.
Favorite Element: My latest additions, as they are new — the floating terrace and wood-burning stove. And the windows — can't beat natural light, and the houseboat is filled with it.
Biggest Challenge: Maintanence.
What Friends Say: Wow!
Biggest Embarrassment: It took me two years to get furniture — bean bag living to the extreme.
Proudest DIY: The entire interior, wood sanding, and boat varnishing.
Biggest Indulgence: Danny de Wit, the best carpentry specialist in Holland!
Best Advice: Ventilation, ventilation, ventilation!
Dream Sources: New York lofts and other boats.
Resources of Note:
PAINT & COLORS
ENTRY
LIVING ROOM
Large Cream Leather Corner Couch
Wood-burning stove
Shaggy cosy rug
Bespoke cushions from my friend Kirsty Powell's textile company
DINING ROOM
Glass dining table with vintage and Phillip Stark chairs
Wranglelr light box I designed for stores a few years ago
Range of yummy books and magazines
Customized bookshelf made by Ikea shoe shelves sprayed white with car paints
(featuring book 'Think like a lawyer don't act like one' from dutch lawyer Aernoud Bourdrez)
Portrait by dutch photographer Brenda de Vries
KITCHEN
Bosch full size oven
White wooden cupboards handcrafted by Danny
Solid wood high varnish top
BEDROOM
Ikea + stylist clothing rail
Thanks, Penny!
(Images: Breanne Johnsen)
• HOUSE TOUR ARCHIVE: Check out past house tours here.
• Interested in sharing your home with Apartment Therapy? Contact the editors through our House Tour Submission Form.
• Are you a designer/architect/decorator interested in sharing a residential project with Apartment Therapy readers? Contact the editors through our Professional Submission Form.