Perfect Soft Rocker: The Sleepytime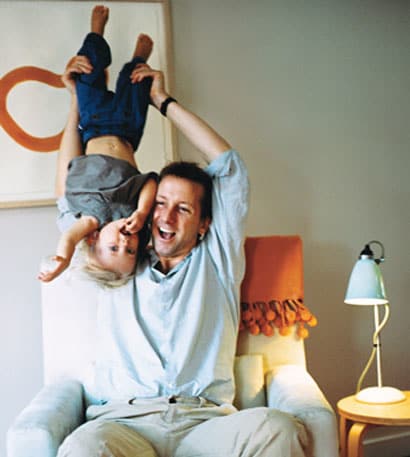 The pic in Cookie when Ursula was 1
Just last week I received this email:
"I'm always looking for great furniture and I noticed the chair you were sitting in [in Cookie Magazine] (holding your daughter upside down) had great lines and looked very comfortable. Would you mind sharing where you bought it?"
- Natasha
There is nothing more pleasing than having someone admire a piece that you worked long and hard on finding...
Yes, it's white, but it stays clean despite Ursula's best intentions.
In this case it is a Nurseryworks rocker called the Sleepytime that we originally bought as a nursing chair when Ursula was born, but which has become a great, comfortable chair in our home. We looked and sat in lots of nursing chairs and wanted to avoid all the comfortable but scary looking ones, because we wanted something that would read "furniture" and not just "baby furniture". This one is super comfortable (you can sleep in it), is easy to clean (microfiber) and we worked hard to get the right combination of fabric and leg color (avoid the dark legs).
It's grown nicely beyond baby stage and become a great living room chair. We like and recommend it.
>> Cookie Father of Invention Article
>> Nurseryworks
>> 17 comment thread on Ohdeedoh about sourcing the rocker
>> Good Questions: Good Rocking Reading Chairs? with 7 comments