Pet Parents Are Training Their Puppies to "Talk" Using This Genius Method
We independently select these products—if you buy from one of our links, we may earn a commission. All prices were accurate at the time of publishing.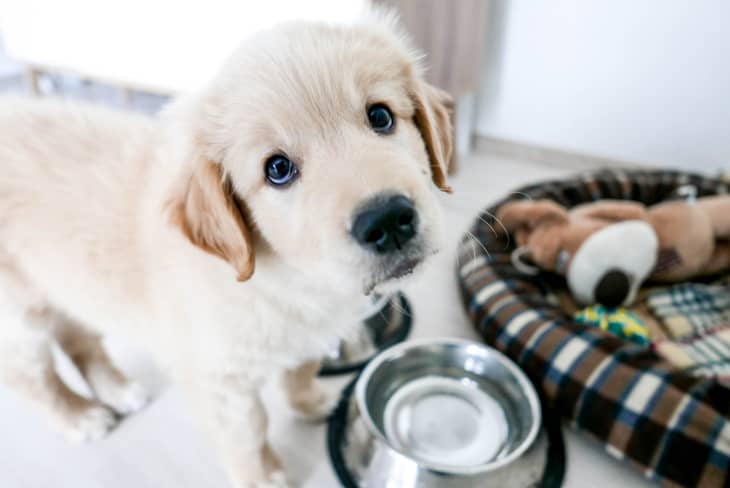 If you've ever wondered what your pets would say if they could talk, you're not alone—speaking the same language as your furry friend would certainly make life a lot easier. Well, pet parents Nicole and Jonathan Brown wanted to figure out how to "talk" to their 10-month old Cockapoo, Polly, so they devised a system that actually showed her how to communicate with them—and you can try it, too.
Follow Topics for more like this
Follow for more stories like this
On "Good Morning America," the Browns explained that they've created a series of colorful buttons on the floor, each with a different command for Polly to follow, including "play," "food," "outside," "water," and more. Nicole, who is an autism support worker, said she wanted to use her experience working with nonverbal children to try and master canine communication. So, they put together a series of electronic buttons and labeled them with Nicole's Cricut, then arranged them on the floor using Hextiles from FluentPet.
They gradually began training Polly to hit each button to let them know her wants and needs, along with responding to their requests—and she's now mastered 14 different commands, all with the press of a paw. The couple continues to document teaching Polly different commands on Polly's TikTok page, racking up more than 270,000 followers and four million 'likes' along the way.
Nicole revealed her inspiration behind the genius idea on TikTok, sharing that it was speech-language pathologist Christina Hunger, MA, CCC-SLP who created the method. Hunger has perfected it with her pooch, Stella, documenting her own journey on Instagram and on her blog, Hunger for Words.
The Browns are also working with FluentPet, which helps provide additional tools for pet owners to teach their own furry friends how to "talk" by hearing voice commands. For example, in the TikTok clip above, Nicole asked Polly what her name is and she quickly goes over to press the "Polly" button.
Aside from Polly's videos being too adorable for words, teaching a pup to communicate could prove to be very useful for those pet owners willing to put in some training time. Never again will you wonder if your dog needs to go out for a walk, wants to eat, or just needs a little loving.