This Quirky Design Feature in My Apartment is My Drill-Free Secret for Showing Off My Art—and Making My Place Look Bigger
We independently select these products—if you buy from one of our links, we may earn a commission. All prices were accurate at the time of publishing.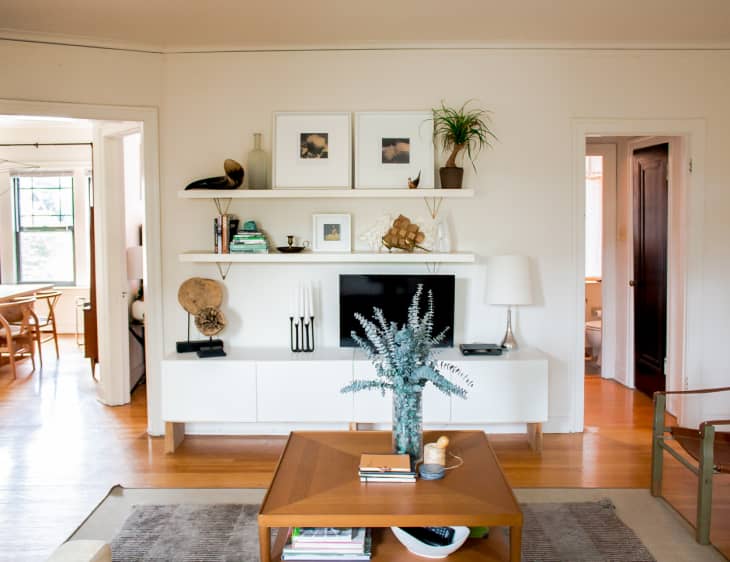 It doesn't matter whether you're a seasoned interior designer or just learning the basics about home decor: Art is generally recognized as an integral part of any stylish, grown-up space. Not only can a beautiful, large-scale canvas or carefully curated gallery wall pack your home with personality and color, but it can also double as a great conversation starter during your next Zoom meeting. Who wouldn't want to impress a client with a pretty print?
When my boyfriend and I moved into our San Francisco apartment a year ago, I was convinced our space would be covered in cool prints, framed movie posters, and favorite vacation photos. We're both creative people—so much so that we bought an easel and experimented with painting—so art was always something we wanted to anchor our space.
Follow Topics for more like this
Follow for more stories like this
The problem: We're working with a very strict lease and landlord. For example, 80 percent of our floors must be covered in rugs, and we cannot have any houseplants directly touching the floor, for fear of water damage. While we're not officially banned from hanging up pictures, I've always been nervous to hammer anything into our walls, fearing one false move could result in us losing our security deposit. To respect our space and the owner's wishes—and, quite frankly, for peace of mind—we've decided to hold off on mounting any art to our walls.
Instead of kissing all art decorating dreams goodbye, however, our apartment's fairly unconventional molding, which you can see in the photo above, has given our space some unexpected display potential. It's like a modern-day picture rail, if you will.
Traditional picture rails have always been a sturdy, reliable way of hanging frames without damaging walls. Dating back to the Victorian era, these ledge-like features were generally crafted from a slim piece of molding that wraps around the perimeter of a room. While picture rails can be found at all wall heights, former "This Old House" host and contractor Bob Villa says they are generally aligned with the top of a window frame. This way, you could place your frame hook on the rail and have your picture land at just about eye-level. Pretty genius, huh?
As large scale pieces of art and gallery walls became all the rage over the past decade or so, the picture rail took a backseat. In fact, I didn't even know what a picture rail was until my uncle mentioned it when my family visited the Bay Area last year and saw my place. Turns out, we have a picture rail proper near our ceiling line (that I hadn't noticed), and the molding that goes around the perimeter of our place at our windows' height could actually be functional, as opposed to just decorative. What a revelation! A perfect place for displaying art was hidden in plain view.
Since my boyfriend and I have yet to frame our new paint projects, we've been propping up our canvases on our molding, using the entire feature as an picture rail to your living or dining room. Like wainscoting, a picture rail can offer a lot of charm and visual interest to bare walls, but it's a cheaper and potentially easier to install solution by comparison. You also don't see picture rails as much these days, so it's a unique look that offers much more flexibility for reconfiguring your art collection than, say, a salon-style gallery wall arrangement.
In this prime spot in the apartment, our canvases are now in my direct line of sight when I'm sitting at my desk. Whenever I look up, I can't help but smile at our pieces. Knowing they aren't putting a dent into our walls—or our security deposit—makes me feel good, too. Honestly, what's not to smile about?