This Houseplant Grows a Tiny Pineapple on Top
We independently select these products—if you buy from one of our links, we may earn a commission. All prices were accurate at the time of publishing.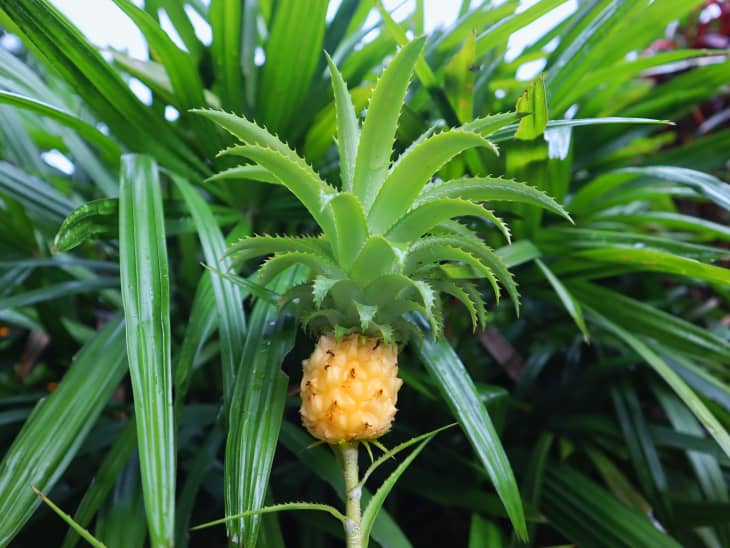 It is totally okay to not be over the pineapple trend. Rose gold pineapple cocktail shakers, pineapple-printed pajamas, candles that look and smell like pineapples. (And let's not even get into how delicious pineapple Dole Whips are.) You can now infuse a different kind of pineapple aesthetic into your lifestyle, and that's by purchasing an actual pineapple plant.
Follow Topics for more like this
Follow for more stories like this
The plant, which you can buy from Home Depot (it's currently out of stock—word gets around fast!) isn't actually for eating, though. It's an ornamental "dwarf" pineapple with the sole purpose of being cute. 
According to Home Depot's site, Pure Beauty Farms grows the plant in Miami, Florida. The plant is part of the Bromeliad family (which is the pineapple group of flowering plants, according to the Encyclopedia Britannica). The pineapple plant is native to tropical climates, but also thrives as an indoor plant—you just need to be sure to expose it to sunlight for at least six hours a day. You can also move the pineapple plant outside as it grows warmer so that it can live its best life. 
As for care, Home Depot suggests to water the plant only once a week (unless the soil doesn't absorb water super well—if that's the case, you might have to give it some H2O twice a week). If it's super hot out, make sure to pay extra close attention to the plant, because the sunlight may dry it out a bit. Other than that, the pineapple plant is pretty self-sufficient. 
You can get a pineapple plant in a grower pot for $23.98, or one in a designer pot for $29.98. And you can totally dress it up on your own with modern ceramic planters like this one from Wayfair (on sale for $39) or one with playful, colorful line patterns from Etsy for $50.