5 Kitchen Trends That Are Going to Be Big in 2022, According to Pinterest
We independently select these products—if you buy from one of our links, we may earn a commission. All prices were accurate at the time of publishing.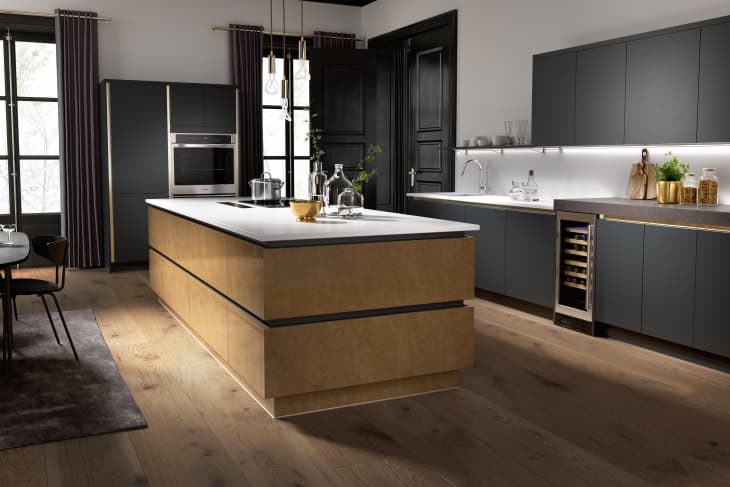 New year, new kitchen. If you're looking to spruce up your kitchen for 2022, why not take a smidge of inspiration from Pinterest? A treasure trove of visual inspiration, the photo-sharing platform is a great place to start.
As a fresh new year approaches, Wren Kitchens has taken to Pinterest to predict the most popular kitchen features for the year ahead. From timeless designs that you can't go wrong with, to the out-there features that will truly make your kitchen stand out, tap into these trends in 2022. To help those seeking inspiration for new kitchens, or just simply wanting to keep up with the latest trends, the study analyzed images on Pinterest that have been posted under the tag "2022 kitchen trends" to understand the common features people are looking for to style their kitchens with next year.
Follow Topics for more like this
Follow for more stories like this
Dark-colored kitchens are dominating on social media right now and for good reason. Blacks, royal blues, and dark jewel tones will be popping up more and more throughout the new year, adding a dramatic flair to the heart of the home.
A timeless classic, wooden cupboards and cabinetry are set to be a popular choice for kitchen renovations in 2022.
"Wood cabinets have always been a classic choice for kitchens; however, they're starting to rise in popularity again," says  Darren Watts, Showroom Development & Design Director at Wren Kitchens, in a press release. "There's also a desire to have painted wooden kitchens, so the grains in the wood are still visible—giving an element of texture to the kitchen,"
White worktops have been an ever-popular choice for many, many years, and the trend isn't going anywhere. Creating a sleek and sophisticated finish, all-white worktops will work especially well with the darker colors we are set to see.
Finally, open shelving and on-display pots will trump cabinetry in 2022. A modern and contemporary look, it's a popular choice among the celebrity crowd—think Emilia Clarke's eclectic kitchen—that adds character to the space.
"This is definitely more of a contemporary option that can look super stylish when done correctly," explains Watts. It can also create a really homely, inviting look having pots, pans and the like on display".