Poland's "Happy to Chat" Benches Are Warding Off Loneliness
We independently select these products—if you buy from one of our links, we may earn a commission. All prices were accurate at the time of publishing.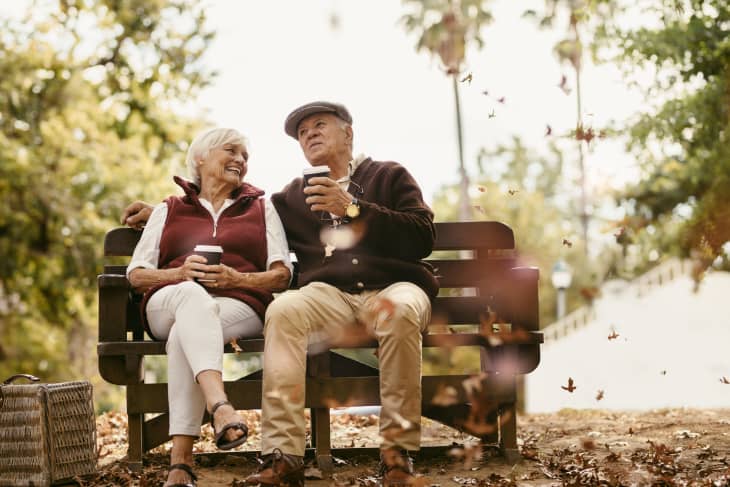 The coronavirus pandemic worsened a problem society was already plagued by — loneliness. Being able to live life online has connected us in ways we could have never imagined, yet the internet cannot fully replace in-person connection. Polish organization Gadulawka — which translates to "Happy To Chat" — has created a solution to loneliness and it comes in the form of a park bench.
Follow Topics for more like this
Follow for more stories like this
The first Happy To Chat bench was installed in Krakow, Poland in September with an aim to address loneliness and the mental health issues it causes. These benches invite citizens to sit down and open themselves up to conversations with strangers.
"Sit here if you don't mind someone stopping to say hello!" the sides of the benches read.
The Happy To Chat benches were conceptualized by Allison Owen Jones, who realized that the inherent awkwardness of starting conversations with strangers prohibited her from approaching a seemingly lonely man in a park in Cardiff, Wales. If only there was a safe place for people to go to signal that they are open to receive conversation and comfort in human connection, Jones thought. So, she created just that — a sign to hang on a park bench that invited strangers to come talk to her.
After seeing Jones' initiative, Krzysiek Sabuda, the senior marketing specialist at the Polish architecture firm Fulco System, decided to turn her sign into an actual bench with instructions on how to use them printed in various different languages.
The hope is that Gadulawka's benches will become a worldwide phenomenon. We have a lot of catching up on human interaction to do, and the Happy To Chat benches give us the kickstart we need to get talking.