This Is the Most Popular Cocktail In Your State, According to Google
We
independently
select these products—if you buy from one of our links, we may earn a commission. All prices were accurate at the time of publishing.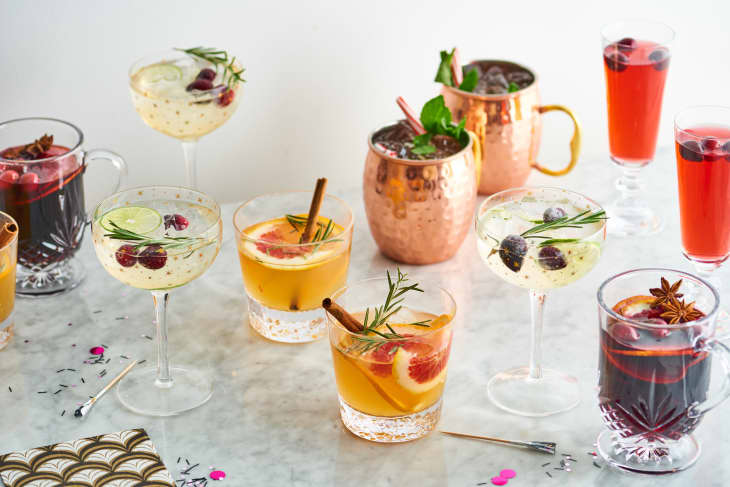 What are you drinking in Arkansas? Who's sipping what in South Dakota or Washington? We know that Americans are buying more alcohol than normal while they're stuck at home — presumably at least in part because they can't stop by the bar on their way home for a little happy hour — but what are people actually making with all that alcohol they're buying? Google did some digging and just released their list of the drinks that people in each state uniquely searched for in the last three weeks — meaning that they search for that drink more than anywhere else in the U.S.
So, what kinds of things are people mixing for themselves? A lot of Old Fashioneds, mostly. Washington, D.C., Massachusetts, Nebraska, New Hampshire, New Mexico, Oregon, Virginia, and Washington State all searched for the drink. It's simplicity definitely helps in making it a good quarantine cocktail — you just need whiskey, sugar, and bitters.
Perhaps in the most obvious of choices, New York searched most for the Manhattan (another simple cocktail — which again needs just whiskey and bitters, this time with the addition of vermouth). But it was also the drink of choice for Illinois and New Jersey. Kamikazes (triple sec, vodka, and lime juice) were popular, too, topping the list with five states. And three states were craving Cosmos (the same as a Kamikazes, plus cranberry). Palomas (grapefruit juice and tequila) showed up all along the Mexico border — California, Arizona, Texas.
But forget simplicity: Alabama and Colorado need to know how to make Hurricanes, which requires multiple kinds of juice and rum, among other things (passion fruit!), Mississippi is searching for a Painkiller, and Montana for a Blue Hawaiian. 
The most interesting searches, though, are always the one-offs: Why does Minnesota love the Oliveto (triple sec, gin, simple syrup, and egg white) so much? Why is Arkansas the only place looking for frozen Daiquiris? We can guess Florida's reasoning behind the Cuba Libre, but what about Indiana's passion for the French 75? That seems like it should have been Louisiana, which instead (along with Tennessee and North Carolina) went with the Bushwacker. And is there a reason that only Ohio is searching for my own favorite cocktail, the Boulevardier?
Here's the complete list.
Alabama: Hurricane
Alaska: Whiskey Sour
Arizona: Paloma
Arkansas: Frozen Daiquiri
California: Paloma
Colorado: Hurricane
Connecticut: Margarita
Delaware: Screwdriver
Washington, DC: Old Fashioned 
Florida: Cuba Libre
Georgia: Sazerac
Hawaii: Lemon Drop Martini
Idaho: Kamikaze
Illinois: Manhattan
Indiana: French 75
Iowa: Kamikaze
Kansas: Screwdriver
Kentucky: Lily
Louisiana: Bushwacker
Maine: Margarita
Maryland: Kamikaze
Massachusetts: Old Fashioned
Michigan: Cosmo
Minnesota: Oliveto 
Mississippi: Painkiller
Missouri: Gin and Tonic 
Montana: Blue Hawaiian 
Nebraska: Old Fashioned
Nevada: Grasshopper
New Hampshire: Old Fashioned
New Jersey: Manhattan
New Mexico: Old Fashioned
New York: Manhattan
North Carolina: Bushwacker
North Dakota: Kamikaze
Ohio: Boulevardier
Oklahoma: Black Russian
Oregon: Old Fashioned
Pennsylvania: Whiskey Sour 
Rhode Island: Cosmo 
South Carolina: Tequila Sunrise
South Dakota: Screwdriver
Tennessee: Buschwacker
Texas: Paloma
Utah: Cape Cod
Vermont: Cosmopolitan
Virginia: Old Fashioned
Washington: Old Fashioned
West Virginia: Kamikaze
Wisconsin: Grasshopper
Wyoming: White Russian