This Portable Sun Shade Is a Must-have for Your Beach Bag
We independently select these products—if you buy from one of our links, we may earn a commission. All prices were accurate at the time of publishing.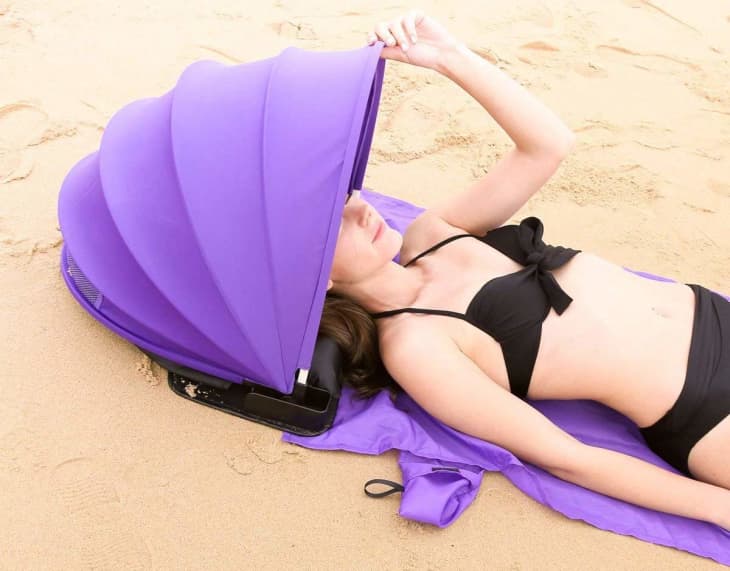 Unpopular opinion: Going to the beach can be a big pain in the butt, especially when it's super hot outside. There's so much stuff to pack in your beach bag, you apply tons of sunscreen yet still worry about your face getting burned, and it's so insanely hot, you can never get comfortable. Now, thanks to this portable sun shade, all of your beach woes are solved.
Follow Topics for more like this
Follow for more stories like this
The sun shade is like an umbrella that covers just your face, allowing the rest of your body to soak up the sun. Sure, you could wear a floppy hat. But what if you want to lie down? You end up having to shield your face with a towel, T-Shirt, magazine, or your arm. But now, with this sun shade, you can lie back and still enjoy the sun without burning your face. Never again will you have to try and hold your book in the exact right position to block it.
The sun shade, which comes in purple and blue, is easy to set up and fold down. It's adjustable so you can move it as the sun moves and well-ventilated so you won't overheat. It also comes with an inflatable pillow to rest your head on, which you can fill with water to help keep you cool on days when the sun is especially harsh. The pillow also has built-in cup holders that will hold your cold beverage when you're not laying down, and the wall has a pouch to hold your phone or other personal items. Basically, it's a beach day must-have.
"It's super easy to assemble and does a great job of blocking the brightness of the sun," one five-star review reads. "It's also very compact, making it easy to carry wherever you go. The included pillow is comfortable and is a great addition to the shade."
Other reviewers note that it's quite spacious inside of the sun shade, so you won't be left feeling claustrophobic while you're catching rays. They also point out that thanks to its smooth material, it's easy to brush off the sand before packing it up so you don't bring the beach home with you. One person even suggested using it to hold your iPad so that you can see the screen without any glare, in case you're in the middle of a beach day binge-watching session.
Thank you, Amazon, for coming to our rescue yet again.