The Perfect Grill for Renters Exists, and It Feels Like Vacation Every Time I Use It
We independently select these products—if you buy from one of our links, we may earn a commission. All prices were accurate at the time of publishing.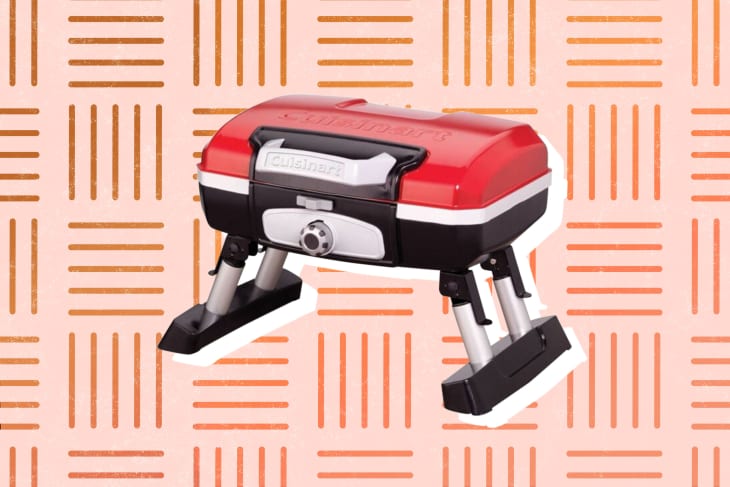 Against all odds, we've arrived at grilling season. With many staying home to prevent the spread of Coronavirus, it's evident this summer look pretty different compared to last year's. And that's not necessarily a bad thing: Maybe stay-at-home orders made you realize you like cooking, and that not going out as much means you have more money to donate to causes fighting for a just and safe future for all people.
Follow Topics for more like this
Follow for more stories like this
While that's certainly the case for me, I still yearn for a summer barbecue. The thing is, I can't enjoy a full-blown cookout because I live in a small apartment in New York City. With public grills in parks and full-sized ones at vacation homes still out of reach, what's a person with very little outdoor space (and even less storage space) to do? Well, I've turned to a handy genre of appliances labeled as "portable."
You see, a portable grill has been the solution to my summertime woes. This little red Cuisinart grill is making everything not so bad—and here's why.
After the grill arrived at my doorstep, my roommate and I pored over its instructions on our kitchen floor. Our first step was to make sure our outdoor space was suitable. Fortunately we have roof access, but it'd work in a small yard or driveway, too. The short legs on this particular grill make it a "tabletop" appliance, but it operates perfectly well on the ground if you're willing to crouch down to flip your burgers. What are you anyway, a Rockefeller?
The second step is buying propane. I was prepared for a cross-borough trek to a big box hardware store, but it turns out my neighborhood hardware store had three (3) different options. I didn't think I needed options, but the instructions tell you what size to use—and this is a situation in which I recommend using the instructions.
So, a quick inventory check. You've got your camping propane, you've got your outdoor area, and you've got your little grill. It's time to get cooking. 
In theory, you turn your grill on the same way you would a burner on a gas stove—knob, click, whoosh—but I struggled to see whether the grill was actually lit the first few times I tried to use the automatic starter. We tried lighting it by turning on the gas and holding a match up to the burner, but we still couldn't see a flame. Fortunately the ol' "hand over the grate to check whether it's hot" told us that it was lit. After a few experiments, we realized that the flame actually sits under a central plate in what is probably a very smart safety feature but caused confusion around our apartment for days.
Once it's lit and you let it heat up? Magic. Similar to following the grill instructions, following recipes (like how to make a burger or grilled cauliflower) will yield grill marks previously unimaginable in your very small kitchen with an extremely sensitive fire alarm.
Somehow, this little grill transports me to the summer barbecues of the Before Times, and with a fraction of the space necessary, to boot. The portability factor is a real advantage for those of us who don't have permanent outdoor space to plant a full-sized grill—its handle allows me to bring it up to the roof of my apartment with ease. This little guy is the perfect grill for renters like me, and it feels like vacation every time I use it. Donating and grilling? Check and check.