A New Farm-Direct Floral Delivery Service Has Bloomed in Quarantine
We independently select these products—if you buy from one of our links, we may earn a commission. All prices were accurate at the time of publishing.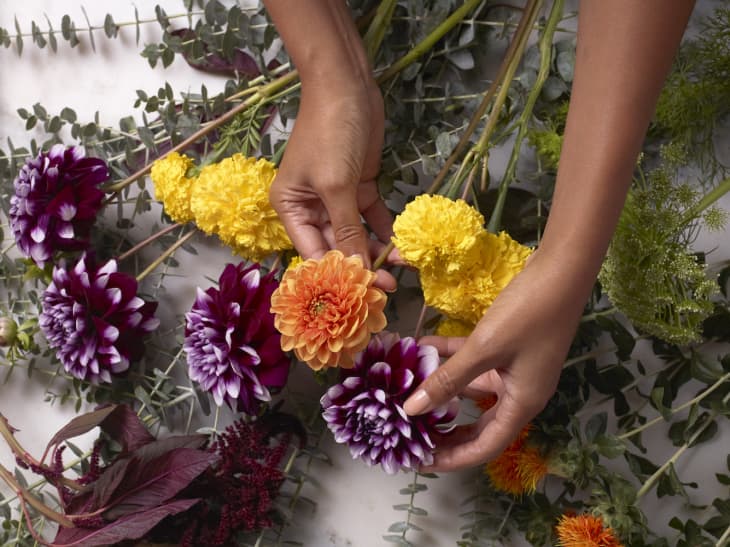 Amid an otherwise bleak pandemic, a new floral delivery service has managed to bloom. Allow Postal Petals, a Black and woman-owned floral box delivery service, to bring fresh flowers from eco-friendly farms to your front door. Much like farm-to-table produce boxes, Postal Petals will deliver farm-to-table florals filled with sunflowers, peonies, and everything in between for all things DIY arrangements, bringing new life to living spaces. 
Follow Topics for more like this
Follow for more stories like this
Postal Petals offers three different sizes, each containing between six to 15 bundles of fresh flowers. The Beanie Box ($89) includes six to eight bundles and yields approximately two medium-sized arrangements; The Midi Box ($129) includes nine to 11 bundles that yields about three arrangements; and The Biggie Box ($179) includes 12 to 15 bundles that yields four to five arrangements. From there, choose from the selection of floral bundles, all of which include whimsical names, such as "Bloom & Boujee" or "Lala Land."
Each stem is then handpicked and cut from local California and domestic farms and shipped within 36 hours of harvest to ensure freshness. The boxes can be purchased as one-time purchases or weekly subscriptions. 
With its DIY bulk floral boxes, Postal Petals hopes that consumers can calm their minds and quiet their thoughts—if only just for a little while. The company was founded amid the ongoing coronavirus pandemic after all, a time in which Postal Petals founder and CEO Talia R. Boone needed a beautiful distraction from reality. "In many ways, Postal Petals was born of selfish desire," Boone said. "In the height of the 2020 pandemic, I found myself desperate for fresh flowers but lacking for options to get my hands on them." 
Alas, "A call with a wholesaler in an attempt to convince them to reduce their minimums to accommodate me led to the creation of the company when I realized there was an unmet need in the market," Boone said. "My desire to meet that need was threefold: 1) I still needed fresh flowers, 2) I saw a hole in the marketplace that I could fill relatively simply, and 3) I was eager for a beautiful distraction from 'rona's trippy alt-reality."