Pottery Barn Kids: The Place To Shop For The Perfect Gift
There's nothing quite like seeing your child's face light up when they open that special gift, the one you knew would be absolutely perfect. Pottery Barn Kids knows what kids love to play with. Their toy collection— play kitchens, wooden toy cars, plush animals, baby dolls, puzzles and books—is wonderfully varied, with toys that will ignite your child's imagination and provide them with hours of play time.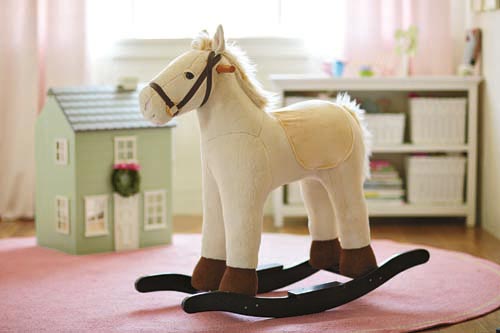 Jumbo Rocking Horse
, $299
Doesn't every child dream of having their own pony? The Pottery Barn Kids pint-sized rocking horse stands three feet tall on solid wood runners, and is sure to be an impressive and faithful friend for your child. Its coat is made of the softest chamois (perfect for petting and many hugs!) while the mane and tail are thick and fluffy, great for brushing.
After 80 years of creating the world's most beautiful collectible dolls, Madame Alexander has created an exclusive collection for Pottery Barn Kids. True to the Madame Alexander tradition, each doll has glossy hair and beautiful facial features, and arrives dressed in a simple striped jersey nightgown. For added variety, there are also four additional outfits ($19.00/each) offered exclusively by Pottery Barn Kids, and a shoe set. These dolls are not only beautiful to look at, but also fun to play with!
Party Doll Outfit: This exclusive party outfit is perfect for special occasions of all kinds, with a bright pink satin dress that has a layered skirt and a stylish V-shaped neckline.
Ballerina Doll Outfit: This special ballerina outfit will delight your budding dancer, with a shimmery top, a fluffy tulle tutu, stretchy tights and pink shoes with satin ribbons, just like real pointe shoes.
Casual Doll Outfit: A casual, everyday outfit is perfect for walks to the park and trips to the zoo, and includes jeans, a stylish long-sleeved T-shirt and a vest. Shoes sold separately.
Sleepover Outfit:This pajama outfit is just right for sleepovers with friends, and includes a soft, two-piece green-and-white pajama set with pretty pink ribbon trim and a bow at the waist. Slippers sold separately.
Madame Alexander Shoe Set: No outfit is complete without a collection of shoes! A pair of red leatherette sneakers, a pair of fluffy white slippers and a pair of black Mary Janes will complete the dolls' ensembles and make dressing and undressing them that much more fun.
The Castle and Accessories set from Pottery Barn Kids will create the perfect magical setting for fairy tales and feats of heroism, rescues and grand battles. The four sturdy towers of the castle slide and lock into place, making the castle easy to assemble and disassemble. The drawbridge attaches with rope. (Knights and Catapult set sold separately and includes 4 knights and 1 catapult.)
Get the perfect gift now!
Click here
for special Hanukkah and Christmas shipping deadlines!