Pottery Barn Kids: The Place To Shop For Great Indoor Play Gifts
In the middle of winter, when it's too cold to play outside and your kids are itching for something to do, you'll be thankful you have these indoor games from Pottery Barn Kids. The holidays are right around the corner, but don't worry: Pottery Barn Kids is the place to shop for last-minute gifts. And these classic sports-influenced items —tabletop air hockey, tabletop foosball, and a digital basketball hoop— will keep your family occupied all through the holidays and on rainy days throughout the year.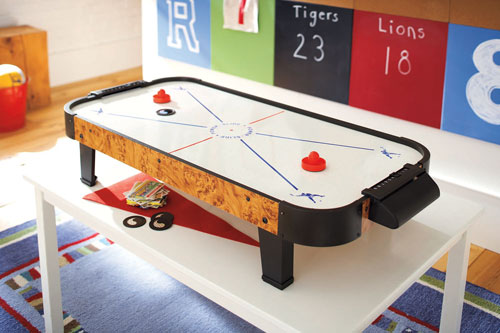 Tabletop Air Hockey
, $169
Built for serious play, the tabletop air hockey from Pottery Barn Kids is designed for easy indoor setup and hours of fun. The hockey table is AC-powered and comes with two strikers and four pucks. Classic, high-quality, and a great game to have around for family visits or kids' parties.
Make play-at-home days as fun as a trip to the ballpark. An all-time favorite with kids, parents and friends, foosball provides the fast action of sports in a format that's perfect for indoor fun. This version from Pottery Barn Kids is built to last, with a sturdy base, six metal control bars with sure-grip handles and two seven-person teams. Can be played by two or four people. It's designed to fold-up and clasp shut, so it can be stored when not in use.
The Digital Basketball Hoop from Pottery Barn Kids is just the gift for your little athlete-in-training. The scoreboard lights up and keeps track of every point while music plays and a shot clock keeps the game going. Comes with two basketballs, a pump and an AC-adapter.
Get the perfect gift now!
Click here
for special Hanukkah and Christmas shipping deadlines!