Kate Middleton Snaps the Cutest Pics for Princess Charlotte's First Day of School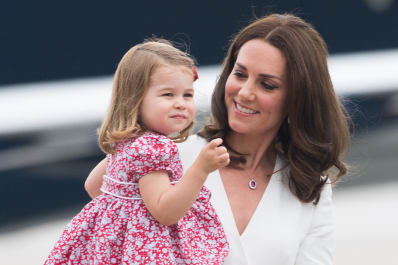 (Image credit: Samir Hussein/Getty Images)
Ah, first day of school pics. It's both a childhood rite of passage, and a parental one. Today, Kate Middleton was a typical mom and snapped a few photos of her daughter, Princess Charlotte, before she headed off to nursery school for the first time.
Today was the the royal tot's first day at Willcocks Nursery School. The decision to send her there was announced by Kensington Palace in December, on the same day they released the family Christmas card.
The private school was founded in 1964, and offers morning and afternoon programs for two to five year olds. Some of the "early years foundation stage" curriculum "includes activities like free play, singing, poetry, acting, show and tell and snack time," according to CNN Money. And "on Mondays, Thursdays and Fridays from 2 to 4 p.m., afternoon school is catered to younger children and includes activities like sports, cooking, painting and playing with musical instruments." Sounds like royal fun.
Charlotte dressed smartly for the occasion, rocking a red coat and matching mary janes, along with grey tights and a soft pink scarf. Mixing the two hues can be tough, but the mini royal pulls off the look flawlessly.