Get the Look: A Scandinavian Winter Cottage from "The Princess Switch"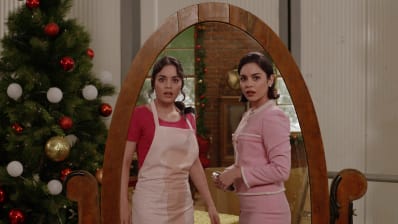 (Image credit: Gabriel Hennessey/Netflix)
Move over Hallmark, there's a new sappy made-for-TV movie behemoth on the rise, and its name is Netflix. "The Princess Switch" is a delight; think "The Parent Trap" meets "Princess Diaries" meets "High School Musical" (minus the singing). Vanessa Hudgens plays the princess and the pauper (a baker). Stacy De Novo has the sweetest little bakery in Chicago decked out for Christmas only to then be whisked off to Belgravia which is like the North Pole to the extreme. Every inch of that place is gift-wrapped, snow-covered, and trimmed with mistletoe. The cottage she stays in during the baking competition is a darling little Scandinavian Christmas crash pad.
(Image credit: Gabriel Hennessey/Netflix)
The first step to achieving this look is to paint everything white; your floors, your walls, your ceilings all need to be white. I know what you're thinking. "White floors are high maintenance and not worth it." Hey. You're wrong. Also, have you heard of rugs? Here's a great article about how to DIY the floors after you tell your negative thoughts to shut up. Painting everything white is going to make your place feel so light and airy, you're going to lie and tell people you never doubted it in the first place. Another fabulous perk of white everything is that your furnishings pop against it without having to use saturated colors. A vintage oak table is going to feel so warm and graphic against white. In a room with colorful walls, it would just fade into the background.
The exception to the white walls is Stacy's bedroom, which is wallpapered with a tiny floral patterned paper. Cute and sweet, there's not much to overthink here. This would be also be adorable in a bathroom or small hallway to mix things up a bit. But be sure to choose a wallpaper with a white or off-white ground color so it isn't too much of a contrast against the white floors and walls elsewhere.
(Image credit: Gabriel Hennessey/Netflix)
Speaking of furniture, let's talk about the palette for the rest of the space. Natural tones are your best friend. Woods, dusty blues, and browns will make it feel like a big hug. Without those earth tones, the space will feel museum-y or worse, boring. If you like sourcing antiques, this is a great use for them as their well-earned patina adds soul to the space. Fill in the rest of the house with understated classics.
Final touches are chocolate draperies at each window and framed artwork hung throughout in mis-matched frames. This is your moment to show off your quirky side…like playing Twister in heels.
Get the look
Kitchen island: Meredith Kitchen Island, $1,049.99
Rug: Celeste Tribal Cartouche, from $83
Wallpaper:
Dresser: Swedish Bowfront Chest, $1,299
Pendant: McCoy 3-Light Multipendant, $780
Curio cabinet: Two Tone Wood Camilla Farmhouse Curio, $499.99
Curtains: Grommet Top Curtain Panel, $24
Garland: Colored Felt Garland, $18.20
Ornament: Finial Ornament, $72.99
Wallpaper: Shabby Rosebuds Wallpaper, $0.58/sq. ft.
Mirror: Rectangle Worn Wood Mirror, $43.12
Faux Succulents: Artificial Succulents in a Pot, $49.95
Apartment Therapy supports our readers with carefully chosen product recommendations to improve life at home. You support us through our independently chosen links, many of which earn us a commission.