8 Things a Pro Furniture Flipper Always Keeps in Their Tool Kit
We
independently
select these products—if you buy from one of our links, we may earn a commission. All prices were accurate at the time of publishing.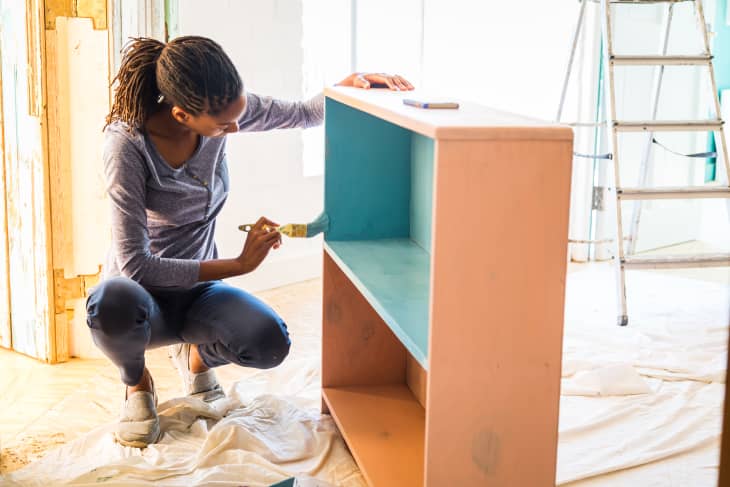 If you want to try your hand at redoing furniture for an upcoming room makeover, you might be wondering exactly what you need to get started. The best place to turn for guidance? The people who have made it their jobs — literally — to find old furniture, refresh it with paint or stain, and resell it for a profit.
Clinton Avery Tharp is one such pro furniture flipper and a self-described "furniture scientist." In the decade since he began flipping furniture to supplement his music career, Tharp has become a professional TikToker with more than a million followers just waiting to witness his next project. 
Tharp's social media channels  show him hunting for tired and decrepit pieces around Purcell, Oklahoma, which he then restores with plenty of personality. He later sells those spiffed-up sofas and chairs, or dressers and nightstands online and in his store for profit. While you may not be ready to make a career of furniture flipping (and in fact, Tharp advises against it — "don't quit your day job as soon as you see a little success — the market fluctuates," he says), there's still a lot you can learn from Tharp for your own personal projects. 
Here, Tharp shares the eight items he always keeps stocked in his workshop so he can take the piece from bleak to sleek. Use this list as a guidepost for your own toolkit, and you'll be prepared to turn your own curbside finds or thrift store pieces into fresh decor in no time.
Stock up on cleaning supplies.
It sounds straightforward, and that's because it is: Old furniture will likely be dirty at first sight. "A lot of the job is just cleaning a piece up," Tharp says. That's why he always has a "big bundle" of microfiber towels in his arsenal, which he recommends picking up at either your local hardware store or online. And naturally, you'll need a cleaning spray or soap and water to go with those.
Shop for a basic tool kit.
Tharp also advises assembling a basic tool kit for yourself. "You know, something with a hammer, screwdriver, and pliers," he says. "Or if you're really cheap like me, go find an awesome tool kit at an estate or garage sale."
Invest in just two power tools.
Some tasks just aren't practical to do by hand. Case in point: sanding. Make sure to invest in an orbital sander that will give you the confidence (and results) you need to refinish pieces of furniture properly. "A good furniture flipper will be sanding and painting a lot," he says. "That's what makes the magic happen."
Tharp also doesn't want you to get discouraged at this point in the process, since he says that it takes time to learn how to sand and paint furniture so that it looks professional. "Start with pieces you can get for free from friends or off the curb," he notes.
The other power tool must have: a drill, which you'll use to create holes for new hardware, or even repair rickety furniture pieces.
Grab these four smaller must-haves.
To complete your collection of furniture-flipping materials, Tharp rounds out his list with the following. "You'll need a magic eraser, wood touch-up markers, and Goo Gone to get the stickies off," he says. "I also really like Restor-A-Finish by Howard Products. It's a complete game changer!" Tharp says that this product makes vintage wood look like new. 
If you're planning to sell, here's one last tip to remember. 
This final piece of advice from Tharp may not end up in your grab-bag of tools one day, but it's still a skill to hone. "If you're planning on selling furniture online, it's important to remember the buyer's experience," he says. "Take great pictures of your item being its best self." It's best to take shots from every angle in a well-lit room, and to include a detailed description with your gallery. "Include any flaws," Tharp notes. "And take pictures of the flaws, too!"