5 Things Property Managers Wish People Knew About Rental Bathrooms
We
independently
select these products—if you buy from one of our links, we may earn a commission. All prices were accurate at the time of publishing.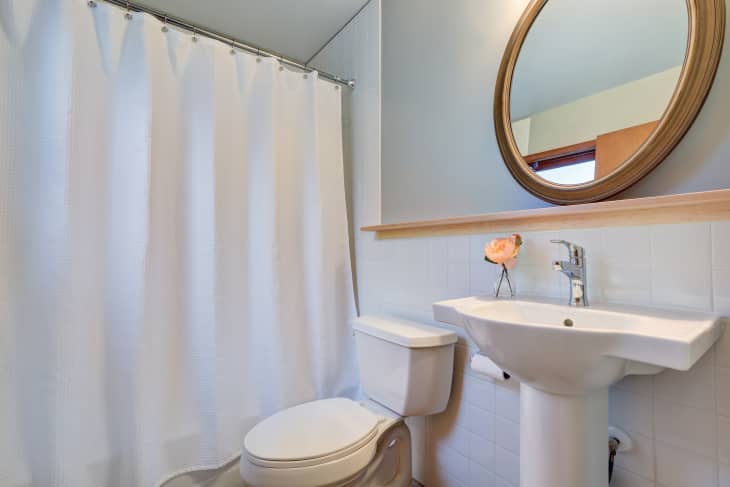 If the bathroom walls of apartments and other rentals could talk, they'd surely make the hairs on the back of a property manager's neck stand up.
But fortunately (or unfortunately) for them, property managers don't need to hear from the walls directly to know what funny business tenants are up to inside their rental bathrooms. They can tell from the monthly water bill, the gobs of hair they pull from the shower drain, and the mildew they find when tenants move out.
Stop putting things down the drain (and yes, that includes the toilet).
A big issue property managers face is clogged drains, thanks to tenants who think it's OK to chuck anything and everything in the sink, shower, and toilet, says Stacy Brown with Real Property Management. Property managers have seen it all while unclogging bathroom drains — cat litter, cotton balls, tampons, makeup and disinfectant wipes, and, all too often, gross clumps of human hair. 
Brown recommends that property managers give tenants a simple fact sheet that explains what can and can't go down the drain — but when in doubt, tenants should just throw everything in the garbage rather than the drain. And every tenant should have both a sink plunger and a toilet plunger in every bathroom for those unexpected clogs.
"This upfront information sharing helps mitigate problems immediately, but, for course, there will always be an occasional accident," she says.
Report issues — even small ones — immediately.
And when those occasional accidents do occur — clogged drains, small leaks, constantly running toilets — property managers wish tenants would report them right away, before they cause more serious problems. 
Even small issues can cause major damage over time; they can also lead to sky-high water bills.
"Unfortunately, even small leaks can add quite a lot to a water bill since that wasted water adds up quickly," says David Richardson, a property manager in Milwaukee, Wisconsin. "Most of the time, the landlord covers the water bill, so that's an added cost that landlords aren't happy with, and as the property managers, we hear the end of it and get the blame for why we didn't fix the leaks."
Always, always use the exhaust fan. 
It's easy to switch on the bathroom light and hop into the shower for a quick rinse. But property managers wish more of their tenants would take the extra step of flipping on the exhaust fan, which helps remove moisture from the air and prevent mold and mildew from forming.
"Hot water during showers causes humidity and, if not properly ventilated, mildew on both the ceiling and inside the tub will happen," says Matt Perkins, a property manager at Nevins Real Estate Management in State College, Penn. "The tenant often relates the mildew as being a maintenance issue."
Be gentle with towel bars and hooks.
In an ideal world, property managers and landlords would install towel bars and hooks on wall studs, but that's not always possible given a bathroom's layout, Brown says.
This means they have to install them directly into the drywall, which makes them really flimsy and unstable. Tenants can do their part by always using towel bars and hooks gently — kids shouldn't hang from them and adults shouldn't overload them with hangers full of sopping wet laundry or other heavy items.
Leave the showerhead alone.
If you're accustomed to a certain water pressure or an extra-tall shower, you might think it's simple to just swap out the showerhead in your rental bathroom. But property managers say badly installed showerheads are one of the biggest sources of leaks in rental bathrooms, so either leave the showerhead alone or ask your property manager to do it for you. And be sure to keep the old showerhead somewhere handy so it can be re-installed for the next tenant.