Quick Tip #11: How to Kill Weeds Without Chemicals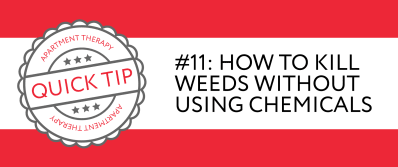 Every well-run home is teeming with tricks and shortcuts to keep it humming along. We're sharing our best quick tips — for cleaning, organizing and repairing stuff at home — to save you time and money. Click through for today's helpful hint, and links to tons more...
Pour BOILING WATER on them! Within a few hours, the plants will be dead, their leaves and roots shriveled up, brown and cooked. The hot water kills them from the inside out. Plus, it won't kill other nearby plants, or leave toxic residue that will seep into the earth or harm kids or animals.
MORE HELP
Our Sites:
Around the Web: