Quick Tip #13: How to Clean a Blender The Easy Way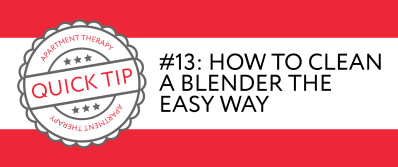 Every well-run home is teeming with tricks and shortcuts to keep it humming along. We're sharing our best quick tips — for cleaning, organizing and repairing stuff at home — to save you time and money. Click through for today's helpful hint, and links to tons more...
When you're finished with the blender, pour some hot water inside and add a squeeze of liquid dish detergent. Then BLEND WITH SOAPY WATER on high for about 15 seconds. It's that easy! When you think about it, it's your blender's mixing that got the goop stuck in that unreachable place anyway. If you're not getting it all clean, try different blend settings—including whichever you used (ice crush, pulse) for mixing.
MORE HELP
Our Sites:
Around the Web: