Quick Tip #19: How to Remove Grease Stains from Clothing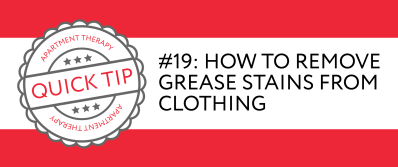 Every well-run home is teeming with tricks and shortcuts to keep it humming along. We're sharing our best quick tips — for cleaning, organizing and repairing stuff at home — to save you time and money. Click through for today's helpful hint, and links to tons more...
Instead of using extra laundry detergent to pre-treat, we turn to our old school friend: WHITE CHALK. Simply rub onto greasy stains and the chalk powder will absorb the grease, making the stain easily removable by the laundry soap in the wash. It works wonders for everything from lipstick to bacon grease.
MORE HELP
Our Sites:
Around the Web: