Quick Tip #22: How to Remove Rust From Household Items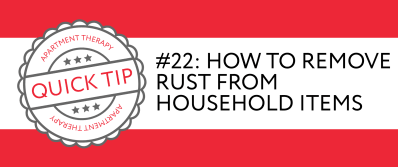 Every well-run home is teeming with tricks and shortcuts to keep it humming along. We're sharing our best quick tips — for cleaning, organizing and repairing stuff at home — to save you time and money. Click through for today's helpful hint, and links to tons more...
Try a POTATO. Cut one in half lengthwise or crosswise, depending on how large a surface area you want. Dip the cut end in dish soap or baking soda and firmly rub it over the rusted area. If the end of the potato gets slick, slice it off and apply more soap or abrasive. Repeat until rust is removed, rinse, and dry. Apparently this works because the oxalic acid in the potato helps to dissolve rust. You can use it to remove rust from baking pans, knives, and other household tools.
MORE HELP
Our Sites:
Around the Web: