Quick Tip #30: How to Eliminate Outdoor Odors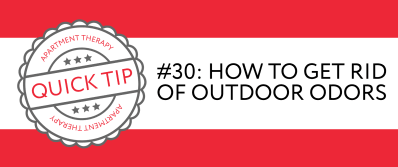 Every well-run home is teeming with tricks and shortcuts to keep it humming along. We're sharing our best quick tips — for cleaning, organizing and repairing stuff at home — to save you time and money. Click through for today's helpful hint, and links to tons more...
OATS are a natural and pet/kid safe remedy for stinky smells (plus you can buy them in bulk for very little). Just sprinkle them over areas that aren't so fresh — underneath the porch or shed, or around the grill — and they'll soak up the smell and compost themselves back into your soil (although you might have a few birds and squirrels that come for a snack).
MORE HELP

Our Sites:
Around the Web: