Quick Tip #32: How to Smooth Clothing Wrinkles Without an Iron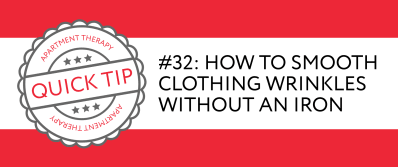 Every well-run home is teeming with tricks and shortcuts to keep it humming along. We're sharing our best quick tips — for cleaning, organizing and repairing stuff at home — to save you time and money. Click through for today's helpful hint, and links to tons more...
Hang your garment on a hanger in an open area (shower rods and the tops of door frames work well). Fill a SPRAY BOTTLE with TAP WATER. (Important: Make sure the bottle has a round dial, NOT the square "Off/Spray" dial.) Turn the spray dial to the finest mist possible, testing and turning until you get it ultra fine. Spray the wrinkles in downward strokes about 12-18 inches away, almost like you're making imaginary vertical stripes of mist. Wrinkles will disappear in a several minutes and garment will be ready to wear when dry.
MORE HELP
Our Sites:
Around the Web: