Quick Tip #42: How to Reduce Static Without Using Dryer Sheets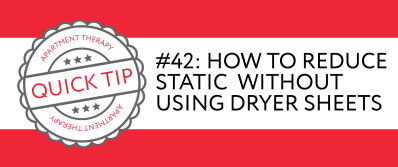 Every well-run home is teeming with tricks and shortcuts to keep it humming along. We're sharing our best quick tips — for cleaning, organizing and repairing stuff at home — to save you time and money. Click through for today's helpful hint, and links to tons more...
Crumple up a piece of ALUMINUM FOIL into a ball, and throw it in your dryer. It cuts the static and, although it won't make your clothes smell like a baby lamb in a summer meadow, it will work for 6 months on end without being replaced. Take that, dry air!
MORE HELP
Our Sites:
Around the Web: