Quick Tip #49: How to Make Curtains Hang Nice & Straight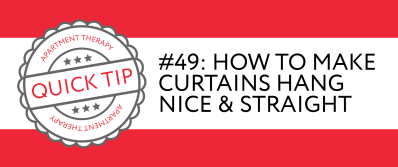 Every well-run home is teeming with tricks and shortcuts to keep it humming along. We're sharing our best quick tips — for cleaning, organizing and repairing stuff at home — to save you time and money. Click through for today's helpful hint, and links to tons more...
Many high priced drapery panels come with weights in the corner, and for good reason. Weighted panels hang straighter and neater and don't wrinkle as easily. To achieve the look for less, try placing a few COINS in each corner of your curtains. Many panels will already have a small pocket there; if not, use scissors and cut a simple slit.
MORE HELP
Our Sites:
Around the Web: