Quick Tip #51: How to Clean Your Television Screen Safely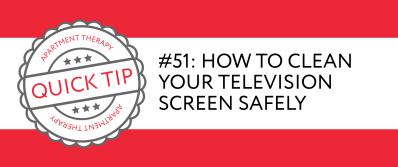 Every well-run home is teeming with tricks and shortcuts to keep it humming along. We're sharing our best quick tips — for cleaning, organizing and repairing stuff at home — to save you time and money. Click through for today's helpful hint, and links to tons more...
Don't spray anything - like glass cleaner or alcohol — directly on the screen. Use a DRY, LINT-FREE CLOTH instead. Microfiber works well, or a dryer sheet fresh out of the dryer. First unplug the television (to reduce any static), let it cool down, then wipe the surface. If there are still fingerprints or marks, dampen the cloth and carefully wipe again.
MORE HELP:
Our Sites:
Around the Web: