Quick Tip #54: How to Clean Stains from Wooden Cutting Boards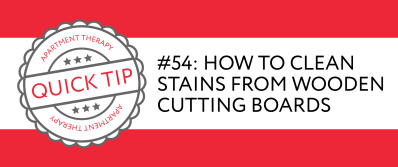 Every well-run home is teeming with tricks and shortcuts to keep it humming along. We're sharing our best quick tips — for cleaning, organizing and repairing stuff at home — to save you time and money. Click through for today's helpful hint, and links to tons more...
Cut up half and LEMON and dip in COARSE SALT. Rub generously over the stains. Then, place the cutting board in the sun, and allow to dry.