Quick Tip #55: How to Make it Easier to Clean the Refrigerator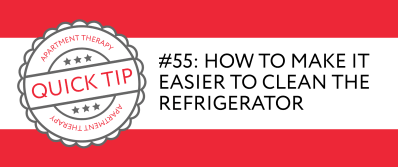 Every well-run home is teeming with tricks and shortcuts to keep it humming along. We're sharing our best quick tips — for cleaning, organizing and repairing stuff at home — to save you time and money. Click through for today's helpful hint, and links to tons more...
Put PLASTIC PLACEMATS on your shelves. They will catch all the food drips and splatters, and spare the actual fridge from getting yucky. Instead of having to remove shelves when you need to clean, just take out the placemats instead and give them a good scrubbing before putting them back in.
MORE HELP
Our Sites:
Around the Web: