The Affordable, Constantly Sold Out Carry-On I Love Just Got an Exciting New Upgrade — Get It Before It's Gone
We independently select these products—if you buy from one of our links, we may earn a commission. All prices were accurate at the time of publishing.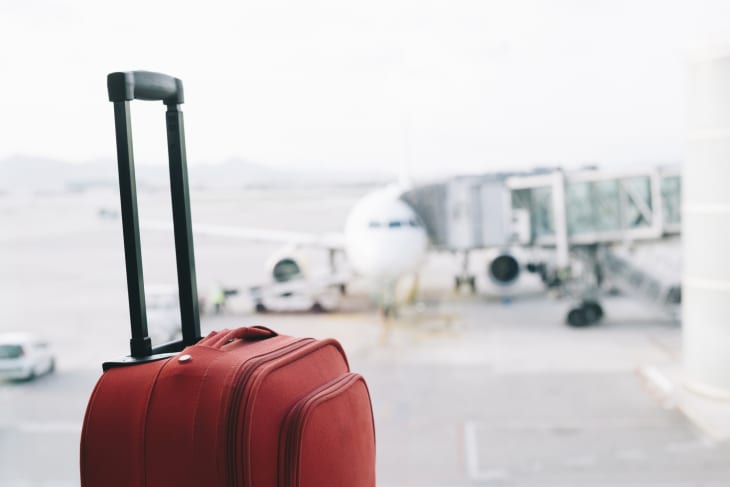 Like the traditional Quince carry-on, the Front Pocket Carry-On has all the features I love: a polycarbonate exterior that's lightweight and sturdy; a telescopic handle; spinner wheels that glide as you roll; a TSA-approved combination lock; a removable laundry bag; and an interior compression system to make sure everything fits and stays securely in place. At 22.8″ H x 15.6″ W x 10.4″ D, the Front Pocket Carry-On is a hair bigger than the traditional Hard-Shell Carry-On (22.8″ H x 15.6″ W x 9.8″ D), but its interior measurements are exactly the same (20.9" x 14.6″), with enough space to hold 6-9 outfits. The addition of the front pocket, however, means you get even more storage. Laptops, books, magazines, notebooks, travel documents, and other essentials can be stashed right on the suitcase for easy access — no separate bag required.
Trust me when I say that the original Quince Hard-Shell Carry-On has been a game-changer for me. For a long weekend in Rhode Island in February, I was able to fit two pairs of jeans, two button-down shirts, a hoodie, four tees, a sleep shirt and pants, a pair of eyeglasses, a scarf, and four days' worth of underwear and socks in one compartment. In the other, I packed toiletries, plus my nightguard, contact lens solution, an umbrella, sunglasses, and a bunch of snacks, with plenty of room to spare.
For a 10-day trip to Sicily in May, I packed pretty much the same things, but upped the number of clothes (three pairs of jeans, four button-downs, five tees, etc.), and still fit everything in with ease. The carry-on is also my go-to for regular train rides from NYC to visit family in Boston throughout the year. It's taken knocks from going up and down curbs like a champ, and though the tan-colored outer shell occasionally picks up black scuff marks, a quick cleaning with a magic eraser has made them barely visible.

Quince's Front-Pocket Carry-On is currently available in two colors — Dark Green and Black — and costs $160. While it is slightly pricier than the traditional Hard-Shell Carry-On, the front pocket does provide additional value in that it may streamline your travel routine by eliminating the need to carry an additional tote, messenger bag, or laptop bag. No matter which model you choose, it's up for any adventure.

Buy: Front Pocket Carry-On Hard Shell Suitcase – 21″; $159.90 (normally $315)