Quiz: Can You Match the Bathroom to the Decade?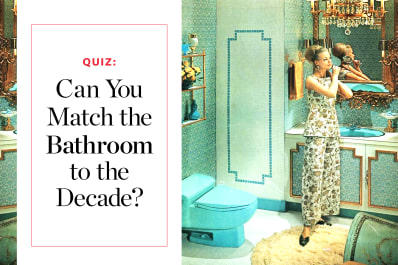 (Image credit: via Moon to Moon)
Ah the vintage bathroom: it's either loved to the point that tears are shed upon hearing that someone ripped out an authentic 1950s space (the original tiles — nooo!!), or loathed so much that it's the first thing someone renovates upon moving into a fixer upper (white subway tiles, here I come!). Whichever side you fall on—as there doesn't appear to be a limbo between those two stances—you're still likely to have fun making your best guesses in today's quiz featuring bathrooms from the '40s to the '80s. "Mamie pink" tiles, wall-to-wall shag carpeting (yes...in the bathroom), embroidered dividing walls...can you match the bathroom to the decade? Share your results in the comments below!
Photography credits: