We Just Found KitchenAid's Famous Stand Mixer on Sale for a Ridiculously Low Price
Apartment Therapy received compensation for this post, which was written and edited
independently
by our editorial team.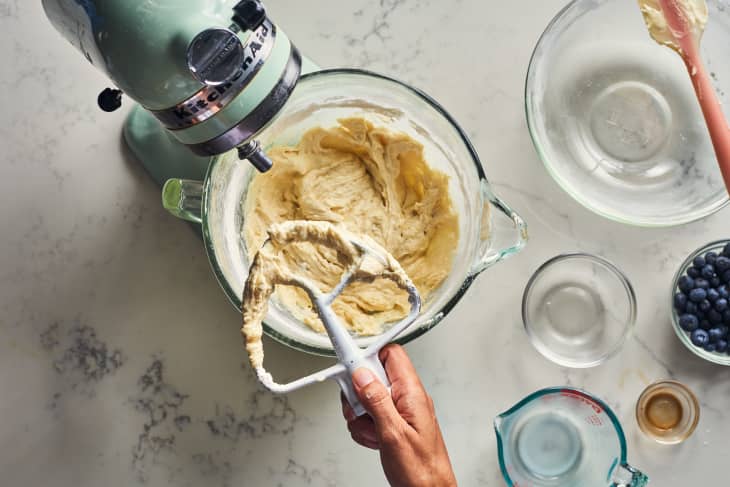 Here at the AT, we've been tackling all kinds of baking adventures this fall. From discovering the perfect holiday dishware set to finding a cool new bread oven, let's just say that our kitchens have been revolving doors for loads of baked goods — sweet and savory alike. (Feel free to remind our family members just how lucky they are!) And, because so many of us partake in this cozy, warm, and comforting pastime, our team is constantly sharing baking essentials with one another. Whether it's a space-saving cooling rack or a nonstick muffin tin, we're holding nothing back.
There is one essential, though, that's pretty much a non-negotiable item in all of our home kitchens: a KitchenAid stand mixer. Ask any avid baker, and they'll tell you that this do-it-all machine is an investment that proves its worth time and time again. Not only does the thing put in all the elbow grease for us when it comes to churning out perfectly whipped meringues, buttery pie crusts, and chewy cookies, it also has the ability to tackle dozens of diverse kitchen tasks through its many attachments. So, when we discovered that QVC (one of our favorite places to score epic deals) was slashing the price on the editor-favorite 5-quart artisan Stand Mixer, well, we just had to let you know.
Now, whether you're a pro (I used this exact model for my doughnut business) or have just begun to dabble in the baking arts, this handy machine is all you need. And, because it's available in nine equally fabulous hues (each of which is discounted), you can bet your bottom dollar that this powerhouse has the looks to match its superb mixing, whisking, and kneading talents. It makes for the prettiest countertop fixture!
Speaking of its talents, it has 10 speed settings, making it optimal for a multitude of motor-powered jobs. Place the lever on the second setting to delicately incorporate dry ingredients into your batter or carefully stir delicious morsels into your dough. Move the lever to speed 10, however, and you'll find yourself with a batch of fluffy egg whites in no time at all. It's that easy.
The colorful machine comes with a whisk, dough hook, flat beater, flex-edge beater (you'll never have to pause to scrape down the sides again), pouring shield, and of course, the 5-quart mixing bowl. The bowl has enough capacity for nine dozen cookies, but it's not too large for everyday tasks and can easily fit in the dishwasher.
So, it's time to pull down grandma's recipe book — or open up a new tab — and find some delicious fall recipes. No matter what it is you plan to bake, one thing's for sure: This must-have stand mixer can get the job done. And, there's no better time to get one of these beauties in your kitchen than right now, when they're more than $50 off! But hurry — the faster you order, the faster those apple streusel muffins will be ready.