4 Things Real Estate Agents Always Say About Wood Paneling
We independently select these products—if you buy from one of our links, we may earn a commission. All prices were accurate at the time of publishing.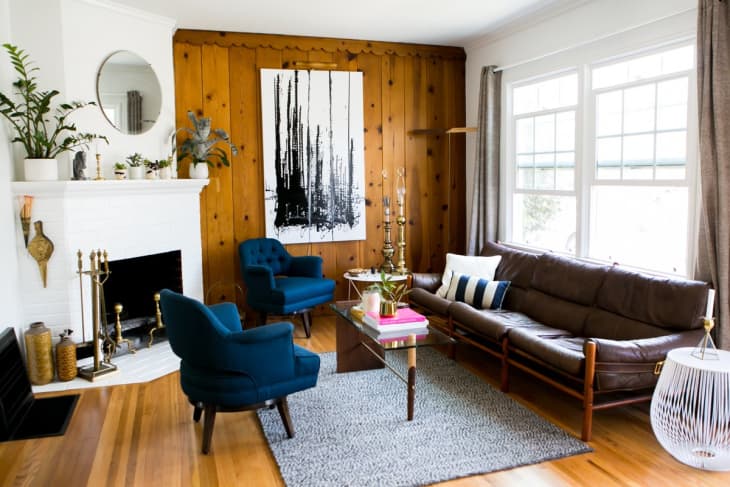 My partner and I are house shopping right now. Though we expected high prices and homes selling quickly, there's one thing we didn't expect: wood paneling. And I mean lots of wood paneling. It seems like nearly every house has at least one room fully paneled. That being said, some sellers have done it right, with carefully-chosen woods and unique paneling styles. If you're looking to buy or sell a home with wood paneling, here's what real estate agents want you to know.
Follow Topics for more like this
Follow for more stories like this
Not everybody (ahem, me) likes wood paneling, and it can really divide groups of sellers and buyers over how it looks.
"The wood paneling of the '50s and '60s can be a feature that some buyers want to cover up, while other buyers of certain home styles, like mid-century modern designs, appreciate paneling as an ode to the past," says Christian Ross, managing broker for Engel & Völkers.
But the trend is reemerging.
Polarizing or not, wood paneling is reentering homes with fervor. Homeowners today are making more conscious decisions about the paneling, though, rather than just grabbing a veneer and sticking it to drywall.
"The styles that are most popular are those which appear to have been custom installed whether they actually were custom built or not," says Kristina Morales, strategic real estate advisor at MultifamilyCashin. "Panels that use separate pieces of wood give the appearance of a custom installation. This includes shiplap, board and batten, tongue and groove, beadboard, and flat panel styles. Reclaimed wood is also popular."
If you've got older paneling and can't remove it, you can update it.
Since wood paneling is a trend again, some sellers are opting to keep the style in their homes for sale. If you buy their home and end up unable to remove the paneling, give it a fresh look. Here's what to do.
Paint it. "If it doesn't quite fit in the home, paint can work wonders to renew the space so it feels modern," Ross says. "Moody emerald greens and light greiges along with complimentary art can also make the space feel fresh and chic."
Paper it. Pull out the wallpaper and slap it up onto the paneling to hide it. "Make sure that you use a liner first to hide panel seams," Morales says.
Design it. "Homeowners are using [medium-density fiberboard] to create modern wall designs, like shiplap, beadboard, raised panels, and board and batten," says agent Karen Kostiw of Coldwell Banker Warburg. "There are now many stains and paints that are used to create artistic designs."
Dark wood paneling can make a space feel small and claustrophobic, and nobody wants to feel closed-in inside their own house.
If all else fails as a buyer and you love a home but can't stand the paneling, ask the sellers for a closing credit so you can have some extra power to update or remove it once you move in.
This piece is part of Throwback Month, where we're revisiting vintage styles, homes, and all kinds of groovy, retro home ideas. Boogie on over here to read more!