​The $10 Find that Saves Time, Beautifies Closets and Makes Me Love to Do Laundry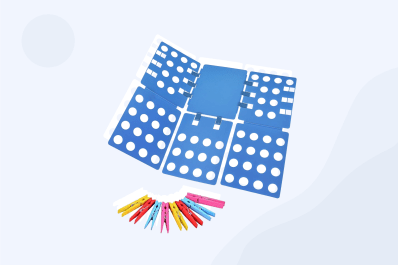 My mother told me that once I had kids, I wouldn't be so persnickety about how my linen closet looked. She was right that I wouldn't have time to be too picky; when little humans need to be cared for, it's true, towel alignment seems much less important. But I never stopped wanting my linen closet to inspire angel choruses when I opened the door. I recently decided to try out a laundry folding device, and not only did it give me the linen closet I've been missing but, much to my surprise, it transformed my entire laundry routine.
For years before she made a splash, I've folded our clothes in the method popularized by Marie Kondo. Namely, I fold laundry so that it can be stowed vertically and seen at a glance. In the past, I've relied on eye-balling to get clothes roughly the same size so they fit in their drawers relatively neatly.
But boy oh boy, does this laundry folder take it to the next level. No matter the size or shape of our shirts, sweaters, or pants, this handy piece of bright blue plastic transforms them into sharing at least two of the same dimensions when they're folded. (Thickness varies, of course, but that's NBD.)
I cannot stop re-folding all the things. And I've found that this standard size laundry folder works equally well on my children's clothes. I just remember to align their clothes consistently and perform additional folds in the same order with each item. Our drawers have never looked so amazing.
Uniformly sized clothing is much easier for the kids to put away on their own. And — get this — they fight over who gets to use the laundry folder. So not only are they excited to fold their own laundry, but their laundry-control-freak mother doesn't surreptitiously re-fold things when they're not looking. (Terrible, I know.)
The thing that was tricky at first was where to use my new favorite toy. I needed a flat surface, and the ottoman at the foot of the couch, where I typically folded my mountains while Netflix-ing, was too low. I tried the kitchen table, but it was somewhat of a strain to reach over it repeatedly. Turns out, the dryer, of all things, is the perfect height.
That's the ideal spot to fold because I'm legit so excited to get the laundry folded now, that I make my best effort to get to the dryer as soon as it finishes. Not only is the laundry folded in small batches that are ready to put away in small batches (game-changer with this alone!), but when the laundry is folded right after the dryer is done, there are way few wrinkles. We all know this, but I'm just not on top of life enough to have ever actually done it — until now.
I love this thing so much more than I thought I would. I told my sister I was going to get her one for her birthday. She said that was great because then she'd be able to "let" her husband help her fold the laundry. Yes, it runs in the family.
Back to the linen closet. I re-did the entire thing one night. With zero mental geometry required to get the fitted king sheets and the baby bath towels and the guest hand towels all the same size. The laundry folder does all the math. And uniform sizes mean that all our linens fit into the closet so precisely, so much like the pieces of a fluffy puzzle.
It's modular laundry, and it is the best.
Apartment Therapy supports our readers with carefully chosen product recommendations to improve life at home. You support us through our independently chosen links, many of which earn us a commission.