Reality Check: Empty Frames Are Kind Of Baffling If You Think About It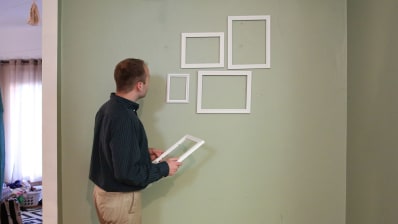 (Image credit: The Onion)
If you're reading this, chances are you've made a strange decor decision at some point, and have thrust that decision upon others who share your space. The editors are cracking up today from this post on The Onion, where a confused, yet good-natured boyfriend is tasked with hanging empty picture frames on a wall.
"Is this kind of what you were thinking?" asked the man tentatively while positioning the frames in a straight line, prompting laughter and a swift correction from Ladd as he struggled to comprehend her puzzling vision.
I mean, we've all been the boyfriend or the girlfriend. Possibly both.
Have you ever proposed or gone along with a weird decor idea? Tell us in the comments.