Rebecca Atwood x Chasing Paper is (Removable) Watercolor For Your Walls
Rebecca Atwood, the Brooklyn-based textile designer whose work is filled with dreamy painterly patterns, can now adorn your walls. Her collaboration with removable wallpaper company Chasing Paper launched on Wednesday.
We first got wind of the collaboration last month on Rebecca's Instagram, but now it's finally here. The limited edition collection pairs Rebecca's watercolor prints with Chasing Paper's peel-and-stick paper. It features four patterns in multiple colorways: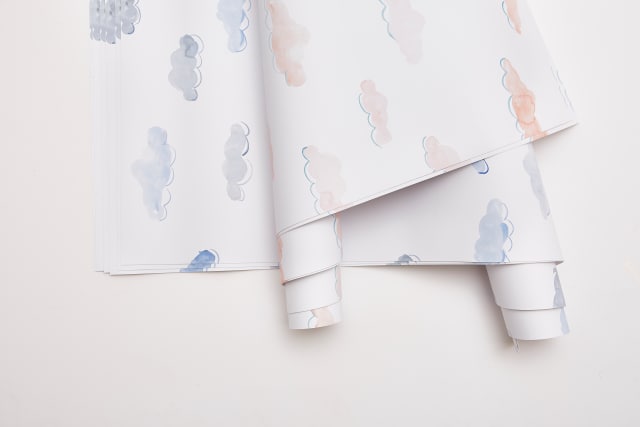 (Image credit: Rebecca Atwood x Chasing Paper)
Clouds: "Painterly clouds that will add whimsy to any room, reminiscent of daydreaming and watching the clouds during childhood." Available in Grey/Blue and Tangerine/Blue.
(Image credit: Rebecca Atwood x Chasing Paper)
Dots: "The simplicity of a dot translated in two ways, a filled-in painter circle and tiny dots forming one." Available in Blue, Taupe/Tangerine, Yellow, and Grey.
(Image credit: Rebecca Atwood x Chasing Paper)
Stripes: "A classic pattern that can be layered with the other designs or stand on its own, stripes are paired with painted dots to make this pattern extra special." Available in Grey, Blue, and Tangerine.
(Image credit: Rebecca Atwood x Chasing Paper)
Fleur: "A play on a leaf pattern, the Fleur reads as an allover pattern and is still easy to incorporate into a space, but has a bit of a story to it as well." Available in Yellow, Sage, and Blue.
Temporary wallpaper is one of our favorite tricks for making a rental your own. If you've never used it before, don't fret! We have a tutorial on how to install it, and tips for removing it, too.
This isn't the Rebecca Atwood's first collaboration: In 2016, she became only the second designer (Orla Kiely was the first) to release a collection with Method, and her spring and fall patterns paired with some of our favorite-ever scents from the eco-friendly brand (we miss you, Sweet Citrus!).
Not that Rebecca is giving up on textiles, either. Last month, she released a collection of one-of-a-kind quilts that were handmade and compiled from various leftover pieces of fabric from her studio.
Our Readers Also Enjoyed:
This Booklet Contains An Entire Watercolor Palette