Rebecca's Cure: This One Nearly Killed Me!
This assignment is tough! I don't care how clean or organized you think your kitchen already is. If you do this task properly you are going to find dirt and disorder where you never imagined it, and your arms and legs will be like jelly from all that cleaning and rearranging. I got through it with black coffee, sugary snacks, Doris Day and lots and lots of vinegar.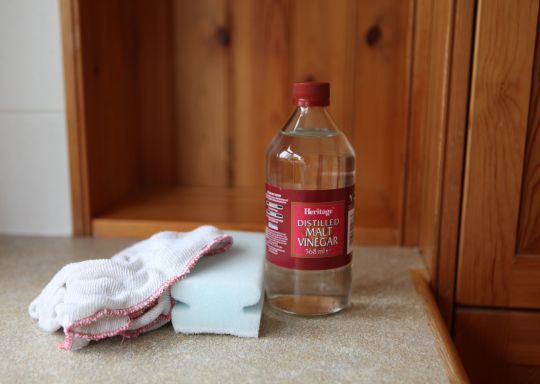 I am a new and zealous convert to the cleaning powers of vinegar. That stuff is magic. It's green, it kills germs and it's super cheap. I used it on the oven, the fridge, the sink and the wooden cabinets inside and out. I started off with a vaguely scientific methodology of one part vinegar to one part one warm water, but by the end I was merrily dousing it neat on just about everything. A word of warning — do not use vinegar on marble or waxed wood. It is too acidic. Also it smells – well, vinegary. Check out my fridge before the vinegar attack.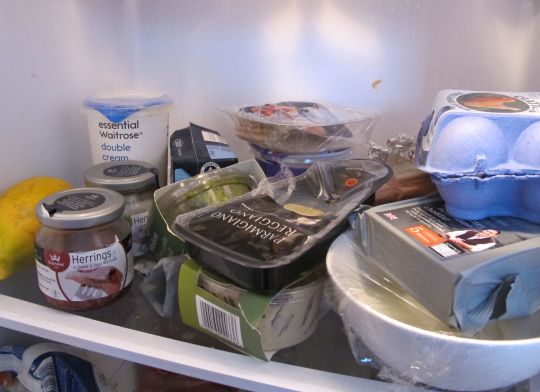 Pretty disgusting. And here is an after of the sparkly clean door shelves. I got a little OCD and even wiped down the jars with a vinegary cloth.
I'd love to say the vinegar plus a green oven cleaner cut right through the muck in the oven, but it didn't. I started off optimistically with a regular sponge, then upgraded to a scouring pad, then wire wool and finally to some metal scraping tool I found in the garage. I used it to gouge out great gelatinous slabs of blackened grease from the oven floor. Truly sickening and repulsive, but also strangely satisfying. This is how filthy a job it was — my fingernails turned black through my rubber gloves.
Once I was through with the cleaning, I had a major sort out. I think some people are just not meant to have open shelves, and I am probably one of them. I like the idea – all your lovely things on display and easily accessible — but take a look at the chaos of my kitchen bookshelf and store cupboard. At least I can hide most of the mess behind closed doors.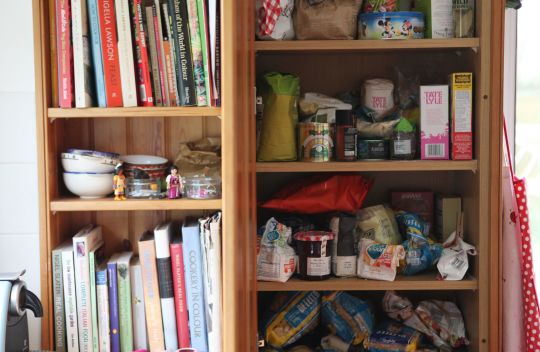 Maxwell advises you get rid of 25% of your stored foods, discarding anything old or unlikely to be used. I probably chucked about one third of the contents of my cupboard. I felt guilty about the waste but also quite relieved. I never have to find a use for that giant quinoa or those udon noodles! I also sorted though my cookery books and put the ones I haven't used in a while in my Outbox. A few may creep back later if I can fit them in.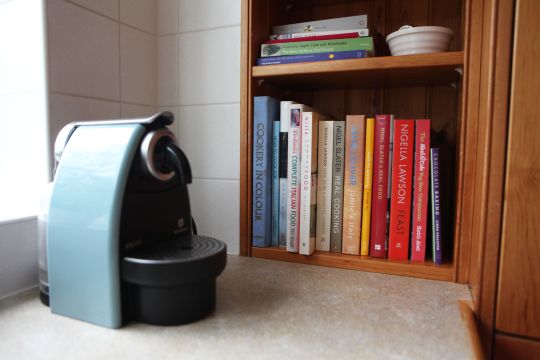 I swept away all the random clutter of playmobil figures, cat comb, tick removers, etc and dug out my old weighing scales instead. Maybe seeing them there will encourage me to bake more.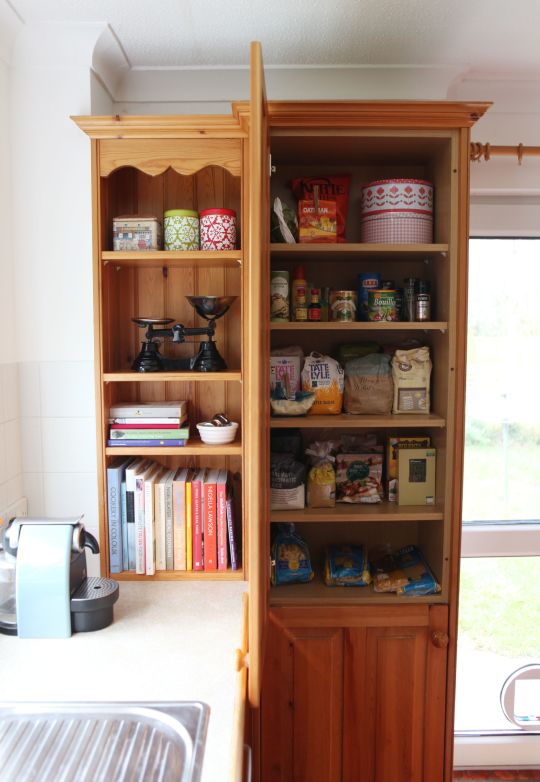 When I was done, I felt pretty proud of myself, and I actually started to feel a little bit fond of my kitchen. Yes, it's slightly dated and down-at-heel, but it is also an incredibly hard-working space. And maybe those pine units aren't so bad after all.
Helpful Links:
Rebecca's January Cure: