Reese Witherspoon's Fruit Wallpaper Is Just Peachy
We independently select these products—if you buy from one of our links, we may earn a commission. All prices were accurate at the time of publishing.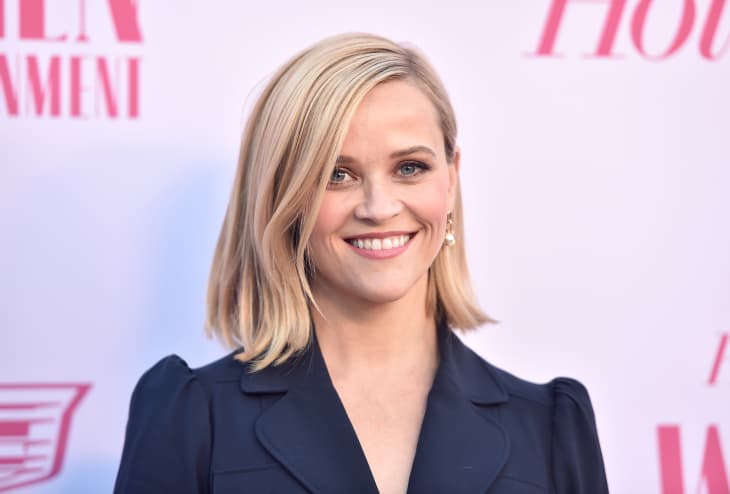 In the depths of winter, Reese Witherspoon is serving spring vibes from what appears to be her bathroom. Witherspoon posted a video to Instagram on Jan. 17 in which she attempts to explain how to "easily" tie a headscarf (and fails), but truth be told, it's hard to focus on Witherspoon when her wallpaper is just that good.
Follow Topics for more like this
Follow for more stories like this
"It's hard being an influencer…." Witherspoon captioned her post—and of course, her headscarf matches that peachy wallpaper just perfectly. She might not be the perfect influencer on the app, but she's delivering all the inspiration one needs with that fruity backdrop.
It's hard to tell if Witherspoon's wallpaper features peaches or oranges—the color reads peach, but the delicate white flowers hint at orange blossoms. The point here is that Witherspoon opted for fruit over the more -common flowers, which should totally be a trend in 2021.
Lulu and Georgia sells its own painterly version of Witherspoon's print, featuring bright bunches of oranges and a mixture of greens. This print, designed by Nathan Turner, can be purchased on a peach-colored background, onyx, or sky, depending on the color scheme of your space.
HappyWall is another brand sporting a fruity paper. Its eco-friendly Orange Blossoms wallpaper is easy to install and customizable when it comes to size.
Graham & Brown sells a dramatic citrus print, available in three different colorways that include illustrated birds and butterflies. After all, who doesn't like to spot a critter on their wallpaper every now and again?
Although she may not be influencing the method with which people tie their hair back, Reese Witherspoon is definitely giving her followers a splash of inspiration-board goodness with that botanical print on her bathroom wall. Bring on the fruit in 2021.