4 Budget-Friendly Ways I Worked Around My Bathroom's Vintage Tile
We
independently
select these products—if you buy from one of our links, we may earn a commission. All prices were accurate at the time of publishing.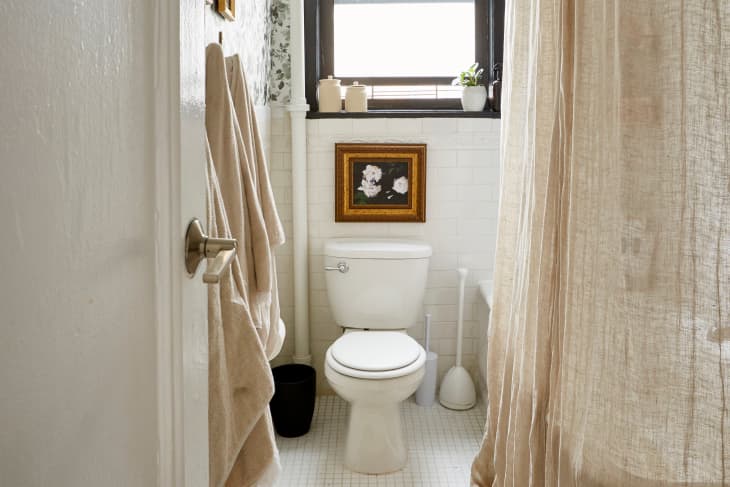 When I first saw the apartment my family now calls home, I immediately fell in love with the old, alluring details. It was built in 1908, and many of the original features, including an ornate fireplace mantel and some stunning wall moldings, still remain preserved. But with the charming, vintage fixtures came some less charming details — most of which were concentrated in the outdated bathroom. Since we're renting and realistically can't take on a full-scale renovation, I did my best to work around the space and spruce it up. Check out four budget- and renter-friendly things I tried that instantly transformed my bathroom.
Adding Peel-and-Stick Wallpaper Above the Wall Tile
About two-thirds of our entire bathroom is covered in vintage tile — not just on the floor, but also along the walls, extending more than halfway to the ceiling. Although it could be in worse condition, the tiling just didn't vibe with my preferred aesthetic. But rather than covering it up, I decided to work with it instead of against it. I went the peel-and-stick wallpaper route, choosing an affordable floral design from Amazon and applying it to the un-tiled wall space. I stuck with a mostly black-and-white palette, embracing the large amount of white from all the tiles and adding some much-needed pattern to an otherwise stark space. Luckily, we have a window for ventilation, so moisture messing up the paper isn't really an issue. 
Swapping the Vintage Towel Bar for Pretty Hooks
Made of ceramic and plastic, the towel bar had been mounted directly into the wall tile. This looked fairly old-school and only allowed space to hang a single towel, which is not ideal for a bathroom that five people share. This one stumped me because I couldn't remove the full towel bar without damaging the tiling. I finally came up with a simple solution: I took out the middle bar portion (the actual center plastic piece pictured above), leaving just the ceramic ends intact. Then, I positioned some pretty brass wall hooks about 12 inches directly above them. This provided space to hang three towels altogether, all of which draped over those ceramic ends and completely hid them from view.
Freshening up the Floor Tile with a Grout Pen
The tile and grout on the floor of our bathroom had seen better days (or, more accurately, better decades). No amount of bleaching or steaming could make a difference on the old, dingy grout, so I purchased a white grout pen from Amazon for $8. Almost like magic, this tool changed the grout from brown to white and made the floor look instantly cleaner. There was a lot of grout to cover, so I had to buy several more pens to finish the job, but it still ended up being a simple, budget-friendly way to freshen up the dated floor.
Incorporating Small Decorative Details
After making these changes, we completed the space by switching out the light fixtures and painting the door and window frame black. The finishing touches were window treatments, pretty shower curtains, some framed art, and a vintage rug — all of which worked with the original elements in our bathroom and not against it.