Retro Kitchenware: Vintage & Newstalgic Finds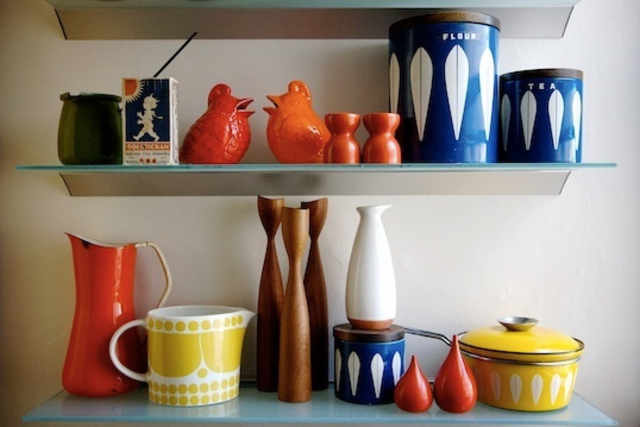 In cold, dreary January, a little bit of retro-style color can be a welcoming sight in the kitchen. Pull out that flame-colored Dutch oven that's been hiding in the cupboard, or go on the hunt for some vintage or newstalgic canisters and cookware to brighten your home.
ModCloth
This online indie clothing store has a surprisingly large inventory of apartment accessories. Shop here for bright, vintage-style cutlery, canisters, and teasets.
Anthropologie
Well known for their French-flea-market look, Anthropologie carries colorful latte bowls, mugs, tea towels, and kitchen accessories.
Sur La Table
This chain retailer carries most of the major contemporary retro-style retailers: Le Creuset, KitchenAid, Pyrex, etc. They also have a nice selection of aluminum tumblers and Parisian-style bistroware.
Brook Farm General Store
This Brooklyn-based store specializes in practical, durable objects for your home. Their webshop is full of wooden bowls and spoons, ceramic containers, and classic kitchen tools.
Pyrex
Vintage Pyrex nesting bowls are colorful, durable classics ingrained with Brady-Bunch-era charm. You can still buy clear Pyrex prep bowls new (shop here), or shop for the real (vintage) deal on eBay, Etsy, or in thrift stores.
Macy's
Macy's Cellar is a good source for Fiestaware in a bunch of different colorways. It frequently goes on sale, so check online to do some comparison shopping before buying.
Etsy
Etsy's one of the best sources for vintage enamelware — particularly the popular Scandinavian 'Lotus' pattern, created by Grete Prytz for Catherineholm.
Nigella Lawson
Her line of kitchenware comes in three different categories: classic, melamine, and flameware. Each has a retro look, and you can find them online through stores like Amazon and Cooking.com.
Bauer Pottery
Los Angeles-based Bauer reproduces the mid-century styles of Russell Wright and other classic Californian tabeltop collections. Available in 15 different colorways, Bauer Pottery is known for its bright, high-gloss glaze. S
Robert Henry Vintage
This Brooklyn-based online retailer has a unique collection of vintage kitchenware and tabletop, with a focus on lines from the 1960s and 70s (you'll find lots of golds, greens, and flame-colored pieces in the mix).
TINI Store
Los Angeles-based TINI (aka This Is Not Ikea) has an ever-expanding inventory of mid-century pieces at reasonable prices. Their tabletop collection includes hundreds of vintage styles and brands.
Updated by Mat Sanders on 1.16.12
RELATED RESOURCES
• Colorful Kitchen Classics: 10 Sources
• Colorful Kitchen Collections
• Sunny Retro Kitchen: Get the Look

Photo: Lisa and Clay's Artsy and Calm Collaboration | Apartment Therapy | photo by Phillip Maisel