You Can Help Save the Environment (and Money) With These Reusable Paper Towels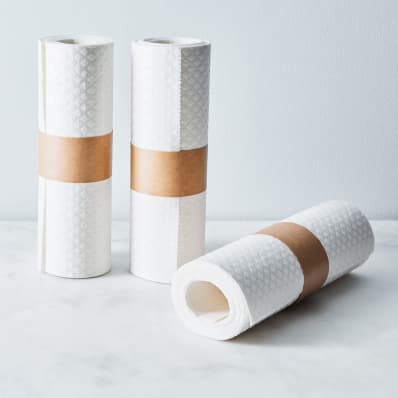 (Image credit: Food52)
Do you try your best to be eco-friendly? You recycle everything you can and you even sort your recyclables. You try to avoid plastic straws. You prefer to use regular plates and wash them, rather than use paper plates. But you can't help but overuse paper towels, right?
Did you know that about 13 billion pounds of paper towels are used every day in just the United States? Paper makes up the biggest portion of municipal waste in the U.S. Paper towels, napkins, and plates contribute to this huge daily waste across the country.
Food52 and If You Care have come up with a solution to this! They've created their own reusable paper towels. It will make cleaning as simple as "rinse, wipe, repeat."
Can you imagine a kitchen without paper towels? Yeah, we can't either. But we can imagine a kitchen without nearly as much paper towel waste, thanks to these reusable sheets made in a patented process from a three-dimensional blending of cellulose, non-GMO unbleached cotton and natural mineral salt. They're super absorbent (as in, 16 times their weight in water) and don't leave fibers behind on your countertops, even after several rinses. Each sheet lasts for a week and when you're ready to move on to the next one, simply drop it in the compost.
Each roll comes with 12 sheets of paper towels and each sheet lasts for one week. Meaning, one roll will last you for 12 weeks! When you buy online, you get a pack of three, so you'll have 36 weeks worth of reusable paper towels in your kitchen. That will help eliminate 700 pounds of paper towel waste per person in one year.
They might seem pricey on the first buy, but just think, you'd only need to buy these twice a year. That is just over $60 for paper towels for the entire year and you're not going to be throwing pounds into the trash can every day. Plus, you'll save a ton of money!
You can buy a pack of three reusable paper towels for $32 at Food52.
H/T: Southern Living