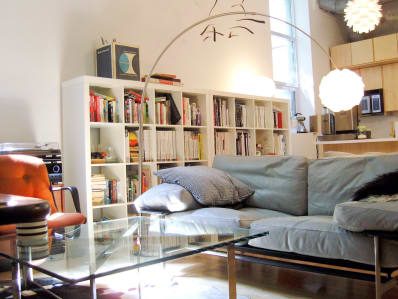 Name: Richard
Location: Downtown, Toronto, Canada
Size: 790 square feet | 1 bedroom loft
Years lived in: owned for 6, though rented it while living abroad for 3 years
Richard knows what he likes which is a great trait when designing a home. He focuses almost exclusively on "curiosities" and 1960's office interiors. He is slow, methodical, and patient when it comes to acquiring. Specifically, 10 to 15 years worth of searching is not a daunting concept for Richard.
Because Richard is this kind of person, the result seems more like a curated space than a display of goods from a recent shopping spree. Each item in Richard's home has a story and a passion attached.
Even the apartment itself has been painstakingly researched so that Richard can glean all of the significance associated with it and its long history. Richard has gone so far as to amass patents from the Refrigerator Company that originally occupied the space, one of the original building permits, and the names of all the companies that have occupied the space since 1913!
Apartment Therapy Survey:
My style: I consider myself a minimalist with a collecting addiction. I've been collecting design objects and other ephemera for about 15 years now. My style is a bit eclectic, and mostly MCM, but I try to have a more personal sense of style and history than decorating strictly from the DWR catalog.
Inspiration: Good design and objects that tell a story. That and the design and practicality of a late 60's executive office.
Favorite Element: The two different original brick walls and wooden post and beam. Curious about the two different bricks, I've actually now traced the complete history of the building back to when the first section of it (the yellow brick) was first built in 1905 for the Eureka Refrigerator Company. The second section was built in 1913. I actually have copies of the original building permits for both and a 3" thick file on the building history!
Biggest Challenge: The love of collecting but living in a small space with almost no hidden storage space. That and given I also run a design studio from my loft, the challenge of combining both work and living functions.
What Friends Say: They love it. I mostly get a lot of comments about the very large feeling of the space and the collection of objects. That and the zebra head and stuffed Ermine tend to always elicit some sort of reaction….
Biggest Embarrassment: I've been meaning to tile the kitchen backsplash since buying the loft, but still haven't found the perfect tile/treatment…any suggestions?
Proudest DIY: The chalkboard sliding partition. Not only does it add a nice dramatic accent to the space, but it is truly functional being beside my daily work desk. After painting I wet sanded at least 6 times so the finish actually feels smooth like a real slate chalkboard and not a black painted door.
Biggest Indulgence: Definitely the Marc Newson designed Biomega bike. I had wanted one for years since seeing it in Wallpaper* magazine, but could never even find a retailer for it. After moving to Denmark for work, I found a floor model on sale a block away from the hotel I was staying at before I found an apartment to rent. I immediately bought it and for at least a week had an awesome bike though nowhere to live! I don't ride it too often (It's not even possible to lock the frame to anything), but can still justify it as an expensive lamp that I can also ride (the entire frame glows in the dark!).
Best Advice: Keep searching for the things you love and don't buy something "temporary" if you can find or afford what you really love. I lived for the first 2 years with no sofa until I found the vintage 30 year old B&B Antonio Citterio diesis at a vintage shop while living in Denmark. Almost everything in my place has been accumulated over a 15-year period of collecting and during that time I don't think I've ever replaced an old acquisition with a new one. It takes time and patience but the result will be a home full of objects you would be happy to live with forever. Also, always buy quality over shopping by price. I've much more regretted buying a cheap Ikea table for $15 than spending thousands on a quality vintage piece.
Dream Source: A contents sale from an office that hasn't redecorated since the 60's. In actuality this has been a Reality Source as well! I previously worked at the Bata Building here in Toronto. It was designed in 1964 by John B. Parkin (also the designer of the famous modernist City Hall). Sadly, it was sold and then demolished. Before the company moved, however, all of the interior furnishings were sold at auction to the employees. It was originally furnished completely by Herman Miller Action. Almost everything was sold, and I scored 2 original Action Office I desks by George Nelson, 6 Action Office II desks, 9 or so Steelcase desk chairs. A friend got 30 Eames shell chairs from the cafeteria. Everything was crazy cheap. I think I paid $10 each for the giant Action Office I desks (one of which you can still see in my space).
Resources
Sofa - Vintage purchased in Denmark. It used to be in the Danish National Bank
Eames Chairs - purchased at auction from the Bata building
Pedestal table - base from goodwill, top from a furniture store going out of business
Herman Miller Desk - purchased at auction from the Bata building
Eames soft pad desk chair - craigslist
Gumball machine - antique market
Cabinet record player - Goodwill
Lighting - Norman Copenhagen lights over the kitchen island purchased in Denmark, crystal chandelier purchased in Czech Republic
Misc. items - mostly from second hand stores, garage sales, found on the street...