Rifle Paper Co. is Having a Huge Sale, And It's Full of Pretty Home Office Accessories
We independently select these products—if you buy from one of our links, we may earn a commission. All prices were accurate at the time of publishing.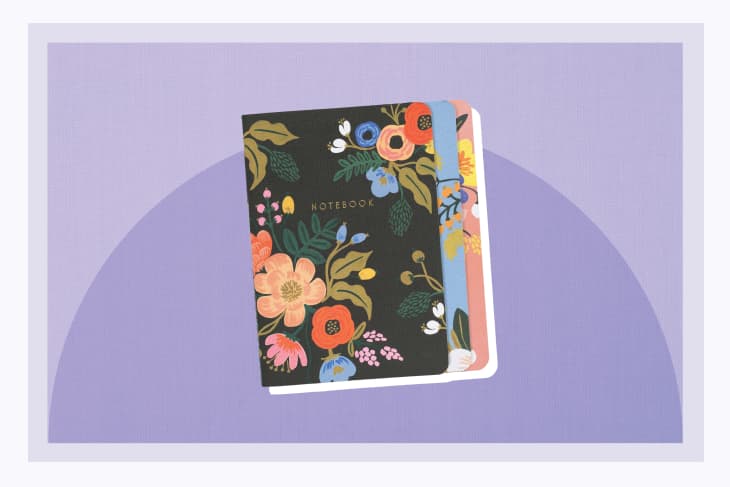 Establishing a productive workspace at home can be a challenge… especially if your home office is less "office" and more corner-of-the-living-room. But setting the stage can help: The right desk. A comfy, space-economizing chair. And, of course, proper office supplies. But let's face it, those utilitarian manila folders and drab notebooks from the pharmacy can be uninspiring and, well, kinda ugly. If you're sitting at your desk for 10 hours a day, you might as well look at something pretty. That's where Rifle Paper Co. comes in. The stationery brand's products are adorned with prints of the original hand-painted illustrations from Anna Bond, who cofounded Rifle with her husband Nathan. They're whimsical, colorful—and for a limited time, 20% off with the code THANKYOU! Check out some of our faves below. 
Garden Party Stitched Notebook Set
Whether you need to jot down some quick meeting notes—or doodle so you don't fall asleep during a meeting that definitely could have been an email—this gorgeously embellished trio of books will make note-taking a delight. Each 64-page book boasts lay-flat binding, meaning it'll stay open without having to bend the cover back, and every lined page is adorned with a floral design at the top.

Buy: Garden Party Stitched Notebook Set, $15 
Pink Floral Weekly Desk Pad
If you're the kind of person who needs to see your week laid out before you, this desk pad/mouse pad will keep you organized—but in a soft pink blush. It features 52 tear-off sheets, with ample room to fill in your daily schedule, as well as a slot for weekend plans. And won't that upcoming conference call look more enticing if it's surrounded by flowers? Well, maybe not—but think of how satisfied you'll be when you rip that week off and toss it in the trash.

Buy: Pink Foral Weekly Desk Pad, $12
Modernist Assorted Writing Pencils
Blank Notebook Set
A high-quality blank notebook always comes in handy. It can be a journal! A sketchpad! A place to draw an all-stick-figure reenactment of "Love Is Blind". Hey, we won't judge! Now imagine what you can do with two of Rifle Paper Co.'s 64-page books (which also boast lay-flat binding): Keep one gold foil-accented book for work, and one for your other, ahem, projects. Pick from four charming covers: Vintage Blossoms, Garden Toile, Birch, and Mermaid.

Buy: Blank Notebook Set, $14
Lively Floral File Folders
If your work generates lots of paperwork, chances are you're in need of file folders. But let's face it: A stack of manila folders on your desk can just look daunting. And drab. And who needs that in their home office? Keep important paperwork crisp and organized with a set of six bright and flowery file folders, plus adhesive labels. They work exactly like the ones you're used to, only prettier. 

Buy: Lively Floral File Folders, $14
Tapestry Paper Tape
Put a personal touch on packages with this bold paper tape, printed with patterns inspired by medieval tapestries. You'll get three 33-ft. rolls with coordinating patterns that'll dress up any envelope. 

Buy: Paper Tape, $13
Large Memo Notepad
If you need to keep track of key events happening at work—or want to schedule some online workouts—this notepad will help keep you organized. Bands of color separate the days of the week, and at 9"x6", there's ample space to fit everything you don't want to miss.

Buy: Large Memo Notepad, $12
Natural Toucan Embroidered Pillow
Hey, not everything in your office space needs to do with actual working. You deserve a little comfort, too. Give your back a boost with this charming embroidered pillowcase, featuring a cute little toucan sitting among some flowers. Need a pillow for the inside? You can separately order inserts in polyester ($10) or down ($30).

Buy: Natural Toucan Embroidered Pillow, $70 
Let's Do This Checklist Notepad
There's something really satisfying about checking something off a list—and clicking a little digital dot in an app doesn't always get the job done. Keep track of what's outstanding in your work day with this checklist notepad. It comes with 75 sheets, so get ready to get a lot done.

Buy: Let's Do This Checklist Notepad, $8
Dickinson Quote Art Print
Your walls may be adorned with taped-up schedules, reminders, and project notes—but you deserve a workspace that's as pretty as it is productive. Emily Dickinson's famed contemplative quote, "Forever Is Composed of Nows," sits adorned with an original floral design in this print. It's a standard 8"x10", so it won't overwhelm a small office area—but a larger size is available if you want.

Buy: Dickinson Quote Art Print, $24