Are Towels The Next Big Trend in Fashion?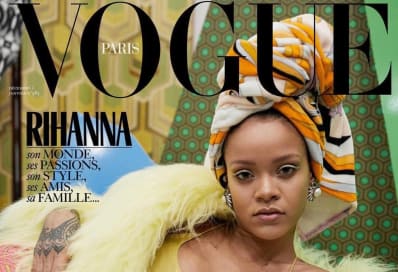 (Image credit: Vogue Paris)
There's an old Twitter proverb, "it's ugly until Rihanna says it's not." Robyn Rihanna Fenty recently worked her magic on a new trend: towels and bathrobes as clothing. Terry cloth cazj. " Bath-Leisure." Like the pajama trend preceding it, the new post-bath look takes something normally confined to the home and takes it out for a high style turn around the block.
On her recent Vogue Paris cover, Rihanna rocks a towel from the Emilio Pucci SS18 collection on her head and looks fantastic. There's something sort of old Hollywood about incorporating bathroom staples into your wardrobe—a little bit Gloria Swanson, a little bit Liz Taylor at diet camp.
If you're wondering what Rita Ora's up to, it's leaning into this trend heavily by wearing a bathrobe and a towel on the MTV EMA red carpet. It looks ridiculous at first, but by the time you've blinked, you may find yourself wondering if you can pull the look off. And once you've decided that you absolutely can, you may start going through your holiday party calendar figuring out when to debut the new style.
Robes are undeniably fabulous (just don't take one from your hotel room) and can be one of those little luxuries that help your home feel like a sanctuary. As Leah Reich said in her ode to robes on Racked, "the point is that a robe doesn't have to be a boring thing you put on between showering and dressing. Like any other article of clothing, a robe can be anything you want it to be."
Cheers to that!
More traditional uses for towels and robes:
h/t The Cut