This Luxe Candle Holder Uses Water to Determine Burn Time
We
independently
select these products—if you buy from one of our links, we may earn a commission. All prices were accurate at the time of publishing.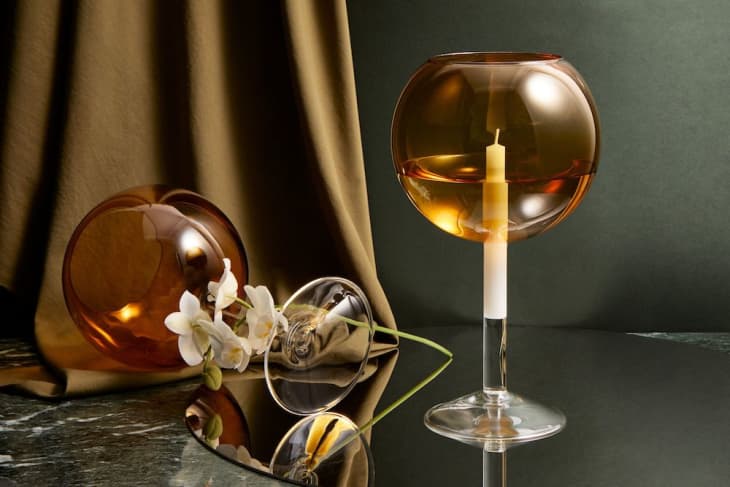 Rokos, an award-winning design studio and luxury homeware brand, has debuted a candle holder that is unlike any other candle holder you've seen before. The ​≲ 231 MIN ​candle holder​, a decorative object led by science, is a floating candle holder that allows users to determine burn time by the amount of water poured into the holder. The unique product, named after its maximum burn time of 231 minutes, is made from high quality borosilicate glass and mouth blown on a lathe.
Like Rokos' acclaimed wine decanter, the ≲ 231 MIN ​candle holder has a fun and playful design that sort of evokes the silhouette of a wine glass. Beyond its impressive design choice, though, are benefits that include minimized candle waste and reduced fire risk due to the self-extinguishing feature of the water-based innovation. The versatile design could also double as a decorative vase, blending seamlessly into surrounding decor and offering a luxurious centerpiece.
"The invention consists of a floating candle, the lower part of which is initially constrained so that it will burn at the vertical angle," Jim Rokos, founder and creative director of Rokos, explained of the unorthodox creation. "As the candle gets shorter its bottom end rises upwards to the point that the constraint is no longer effective and the candle revolves over onto its side, extinguishing itself in the water. For less burn time, add more water."
Per Rokos' astute description of the ​≲ 231 MIN candle holder, the luxe product is ideal for dinner parties, because "should a guest remain at an event longer than is desirable, a self-extinguishing candle may provide a tactful clue that the event is over." With a luxe and unorthodox creation, though, comes an incredibly luxe and unorthodox sales price. It retails at £350, or about $460 in U.S. dollars, which is undoubtedly insane for a candle holder. In any case, the design is truly something to behold.