10 Little Ways to Romanticize Your Everyday Life
We independently select these products—if you buy from one of our links, we may earn a commission. All prices were accurate at the time of publishing.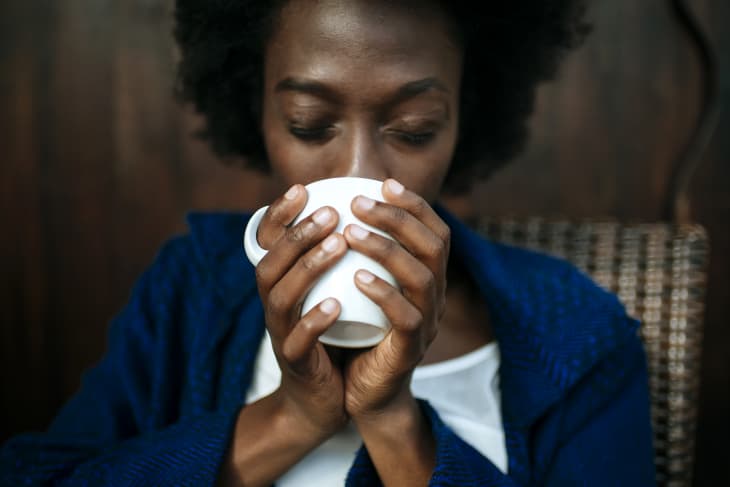 Over the past few years, there's been so much messaging from social media to "romanticize your life" and to "be the main character." After all, isn't everything more fun when you feel exceptional rather than as though you're a bystander in your own life? But the idea sometimes gets lost, perhaps somewhere in between soothing instrumentals in the background of those TikToks and overexposed film photo dumps on Instagram, about what romanticizing your life really means. 
For me, it's quite simple. It's about finding bits of joy in the mundanity. Whether that means reading a book in a coffee shop instead of on my couch at home or calling my very standard coffee order (an oat milk cappuccino) my signature drink, romanticizing my life makes everyday happenings far more enjoyable. 
Any day can be a romantic one if you set out to make it so (although some of the most main character-feeling days, of course, are serendipitous). Planning an afternoon around a necessary errand helps me enjoy everyday tasks more. If I'm headed to a neighborhood I don't frequent for, say, a doctor's appointment and have the time to linger, I'll always look for a park in the area to explore. If it's warm enough, I'll sit and read my book or at the very least I'll take a walk around. I'll let myself daydream and usually end up wondering what it would be like to live in that neighborhood: where I would go out to eat, what my commute would look like, or the bars I'd become a regular at. (This will inevitably turn into browsing Zillow for real estate, even though I have no intention of moving anytime soon.) If there's a library or coffee shop in the area, I'll also include those in my itinerary, since those are two places that I know bring me joy. 
2. Write an old-school letter to a friend
Sending a text or picking up the phone are perfectly acceptable ways to reach out, although if you'd like to get a little more sentimental, writing a postcard or letter goes such a long way these days. I find the practice to be so intimate; seeing someone's handwriting is a peek into who they are, as are their stationery and stamps of choice.
3. Put a normal event on your calendar
One of my friends always makes a shared calendar event when we make plans — for dinner reservations, concerts, or even a casual afternoon coffee. Even though I don't need my calendar to remind me that I have plans with a friend on a given day, having something written down to look forward to makes the not-so-fun tasks of everyday life more bearable. To go a step further, I also love making Partiful invites for any event, from birthday parties to book clubs. The website is helpful for organizational purposes, sure, but the beautiful themes and photos available to customize the invitation make even casual gatherings at home worthy of my most stylish tablecloth and personalized place cards. 
4. Call something your "signature"
There's something undeniably chic about having a signature drink. When I was in high school, one of my friends jokingly ordered a "Madeline Diamond" (my name) at a restaurant, only for our waiter to ask what exactly that was, because, after all, it's not a real beverage on any menu. "Oh, it's a Shirley Temple with two cherries," she said, assuredly. It was a bit, of course, but the idea of a drink being my drink excited me. Since then, I've asked myself at various points in my life, what would a Madeline Diamond drink be now, and what does that say about me? Having a go-to coffee or cocktail gives me that same sense of self-assurance my friend did the night she ordered that Shirley Temple, which is something everyone needs from time to time. 
5. Upgrade to matching pajamas
Most of the items on this list don't involve spending money, and I do believe that romanticizing your life doesn't require shopping. That said, when surveying my friends and evaluating what habits at home offer up main character energy, wearing a set of matching pajamas was a winner. I love my oversized T-shirts and sweatpants and refuse to get rid of them, but if I want to feel my best while I'm enjoying a night in, my ultra-soft Target pajama set is a go-to. 
6. Take your book or journal on the go
I typically think of reading a book or writing in a journal as solitary activities, although I find it refreshing sometimes to feed off the energy of others and by reading or writing in public. Being the mysterious person with a glass of wine or cup of coffee with a notebook also feels very romantic comedy-esque. But optics aside, I've gotten some of my best writing done and have found myself completely engrossed in a book when I take these activities to coffee shops, bars, hotel lobbies, and parks. 
7. Drink your coffee or tea with two hands
My mom and I have a joke about how you have to be really relaxed (and have no sense of urgency) to sit and drink your morning coffee with two hands. Typically, we multitask as we get our caffeine in, bringing our mugs along as we get ready and begin work for the day. However, taking a moment to slow down and truly savor my hot beverage of choice is the perfect time to daydream or brainstorm. Sometimes, a sense of urgency isn't necessary, and enjoying the small pleasure of a cup of coffee can impact the rest of my day. 
8. Slow down your nighttime routine
The same logic goes for the evening. There are times when I'm too tired to be bothered with a full routine and want to get to bed as soon as possible. But I'm typically far happier at night (and the next morning) when I give myself time to wind down. That might include taking a bath with candles and a glass of wine (again, main character vibes) or just completing a more comprehensive skincare routine than usual. Ideally, the night will end with a cup of tea and a few pages of a book.
I almost never have my overhead lights on unless I'm cooking or cleaning. Instead, I have a variety of lamps and almost always have a candle or several lit, especially at night. Cozy lighting makes me feel safe and warm, whether I'm alone or entertaining. It's such a simple thing, but the right lighting always makes me feel more inspired. 
10. Try an activity you'd normally do in a group, alone
There is something cinematic about being alone, confidently, in a public place. I used to be so intimidated by dining by myself or going to a concert sans friends, but it's surprisingly freeing. When I only have myself to worry about, I'm usually more in tune with my surroundings, whether that's the crowd at a show or the other customers at a coffee shop. Some of the most interesting people watching I've done (which usually involves romanticizing my life and others') has been when I'm alone. The creative energy I gain after an afternoon spent out alone is enough to feed my daydreams for weeks.