Room & Board Presents: Customize, Personalize and Choose Your Small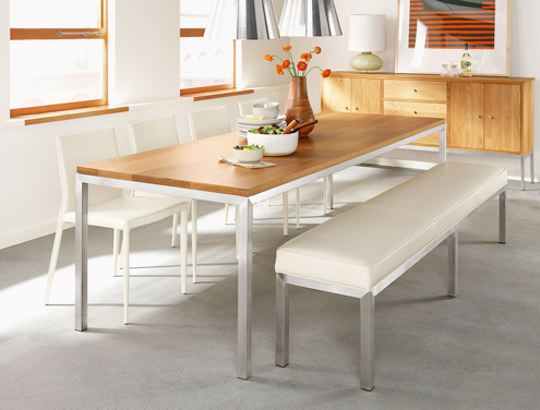 The smaller the space, the more you need to be pro-active about the furniture you choose. While most people might be familiar with the custom upholstery for small-scale sofas, slipcover, and throw pillow options at Room & Board, it's great to learn that a lot of their other products can be personailized...
The Portica Table Collection for example, has a stainless steel base but is available in whatever width, height, and length your odd shaped room might demand. The Hancock Table Collection, pictured below, is also customizable, but comes with the added bonus of one or two extensions at either end. So you can have a small table most of the time and then expand it to fill your large living room, or your small studio aka 'dining room on special occasions.'
The Infinity Mirror collection is another favorite in the fit-your-own-situation category. They come in any size you'd like, also down to the inch.
If you really want to build your own storage unit, basically from scratch, go for the Linear line. As long as you don't have a problem with right angles, there is almost no reason this line won't fulfill your every last request. Each aspect of the process has options, from the material used, to the method of opening the drawer, to the transparency of each facade element.
Clearly, there's no excuse to feel slave to the off-the-shelf selection. Be as picky as you like, and be proud of your unique home--be it miniature or octagonal, high in the sky or underground.
Sponsored by