When Prince Harry & Meghan Markle Redecorate, Here's Where They'll Likely Shop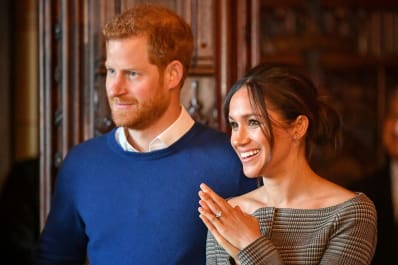 (Image credit: REX/Shutterstock)
Nothing gives me a lift like a royal wedding. Since announcing their engagement this past November, Meghan Markle and Prince Harry have been the talk of the internet. When is it happening? May. What kind of engagement ring will she sport? Custom by Cleave and Company. Where will the newlyweds live?Nottingham Cottage in Kensington Palace. How will they decorate? Unclear—but we can glean from the Royal Warrant Holders Association what decorating favorites may be on the list.
First things first: A Royal Warrant of Appointment is a "mark of recognition to those who supply goods or services to the Households of HM The Queen, HRH The Duke of Edinburgh or HRH The Prince of Whales", according to the Association's website. Basically, if you have provided goods or services to the royal family for at least five years, you can apply for a Royal Warrant. If granted, you have the honor of displaying the Royal Arms (from whichever royal has granted the Warrant).
Royal favor was bestowed on craftsmen and tradespeople since the beginning of the monarchy, but it wasn't until the 15th century when Lord Chamberlain "formally appointed tradespeople with a Royal Warrant of Appointment". Lucky for us commoners, the internet exists and we can add a little bit of royal flair to our homes.
Furniture & cabinetry
When I first looked through the list of Warrant holders, I assumed they were all going to be old school traditional craftsmen. I was mistaken. HM The Queen issued a Warrant to Zone Creations, manufacturers of bespoke acrylic furniture. Is what room is the Queen putting her tea down on an acrylic coffee table?! Damn girl, you edgy!
Another new hip favorite of the royals is So Chic. They opened their doors in 2004 as a full service design studio and showroom and hold a Warrant as a Luxury Goods Supplier. Sleek, modern designs that ooze glamour and sophistication fill their Windsor location showroom. I could certainly cozy up on that sofa and watch Love, Actually for the 72nd time.
Our #kitchenoftheweek belongs to our Darwin range. A twist on the traditional, perfect for #modernhomes.

Check out the full range here: //t.co/WW8s3LhvKE #interiordesign pic.twitter.com/Dgh03jui2X

— Stoneham Kitchens (@stonehamkitchen) February 19, 2018
At the end of a long day lobbying world leaders, where will Meghan and Harry enjoy a glass of wine and perch, discussing their accomplishments? In the kitchen, of course. Stoneham was founded in 1864, but was not granted a Warrant until 1995 by HM The Queen as a Furniture Manufacturer. However, after perusing their website, what knocked my socks off was their gorgeous, modern kitchens. Clean, fresh, and sometimes colorful, these kitchens are the perfect place to catch up with your beau.
Textiles
You may have heard of a few of these vendors. They've been cranking out classics for decades (and, in some cases, centuries). Axminster Carpets has been creating carpets for the Royals and beyond since King George III. They do several classic tartans and plaids, but if you're looking for something more modern and graphic, check out their herringbone options. This Kisschase pattern is calling my name.
Cole & Son, Sanderson, and GP & J Baker are giants in the world of wallcoverings so it's no surprise that they each have received Royal Warrants. Their collections are immense with great options for every sensibility. Think paint is a better fit for your space? Look no further than Crown Paints.
If you need some fabulous upholstery options, check out Joel & Sons Fabrics. Their massive selection won't disappoint. It includes fabrics from high-end designers like Valentino, Ungaro, and Loro Piana.
Lighting & accessories
Top off your royal apartment with interesting lighting and accessories. Both Universal Lighting Services Ltd and Dernier & Hamlyn carry fixtures that are modern with a wink towards tradition through their finishes. The Nottingham Cottage at Kensington Palace is a historic building, so a bit of tradition would help bridge the old and the new as Meghan and Harry redecorate.
Any royal worth their salt has a preferred goldsmith/silversmith, and HM The Queen is no exception. Check out Thomas Lyte. They have a collection hand-crafted by Loucinda Nims that can somehow make tea time more chic.
Now all you have to do is practice your princess wave.
Apartment Therapy supports our readers with carefully chosen product recommendations to improve life at home. You support us through our independently chosen links, many of which earn us a commission.