The 8 Traditional Rules of Royal Weddings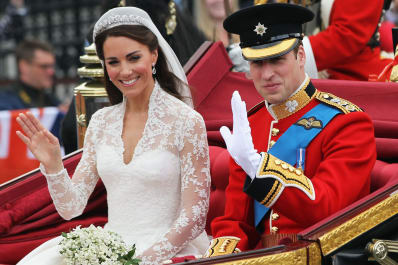 (Image credit: Sean Gallup/Getty Images)
If you've ever been married, been part of a wedding party, or even attended a wedding, then you are aware that behind all the flowers and champagne is a world where familial expectations, cultural traditions, personal taste and budget often collide.
And those are mere commoner weddings.
So what about all of the expectations and traditions that come with planning a royal wedding?
It's a lot, to be sure. When Prince William and Catherine Middleton wed in 2011, Prince William was (and still is) second in line for the throne, so the very formal wedding of this future king was as much for country as it was for the couple, following all the expectations and traditions set out for them hundreds of years ago.
(Image credit: Samir Hussein/Getty Images)
But Prince Harry (now 5th in line) and Meghan Markle's upcoming wedding may be a little different based on their distance from the throne—and their unique personalities, of course. Harry and Meghan seem like a couple who are willing to break the royal rules a bit. See: holding hands in public, gushing to Vanity Fair about her royal sweetheart, and choosing a solely diamond ring (most royals refrain from PDA in public, are tight-lipped about their relationships, and favor gemstone engagement jewelry).
Their refreshingly modern union also represents the merging of diverse cultural traditions, as Markle is a biracial American, and a laid-back Californian to boot. Needless to say, we'll all be waiting to see how the couple incorporates these various aspects of their story into their royal wedding day traditions.
And just what are these royal wedding traditions? And what is the likelihood that this modern duo will break them? (Or at least bend them a little?)
1. Always Ask the Queen
The Royal Marriages Act of 1772 required royal descendants to seek the Sovereign's permission to marry. It was repealed by The Succession to The Crown Act in 2013, which only requires the first six people in line for succession to seek the sovereign's permission. Luckily for Markle, who was raised Catholic, The Succession to the Crown Act also allows royals who marry Catholics to succeed to the crown, which was previously forbidden. The queen is said to have readily given her permission for Prince Harry to marry Markle, so now we're just waiting to see the Instrument of Consent.
2. Royals on the Right
When Prince Harry and Meghan Markle marry in St. George's Chapel at Windsor Castle, the royal family will be seated on the right side of the church, as they always are, unless the groom is not a royal. St. George's holds around 800 people, so we can expect a much smaller wedding than Prince William's wedding for which the queen sent out 1900 invitations.
3. The Queen Sends out the Invitations
Enough said—the queen has final say over the guest list and sends out the royal wedding invitations.
3. Guests Arrive Early
It is imperative at all functions in which the queen is in attendance that she's the last to enter the room. Some attendees at Prince William & Catherine's 2011 wedding arrived two hours prior to the bride (and the queen!)
3. A Kid-Friendly Wedding Party
Traditionally the royal wedding party is made up of of little children, a tradition partially broken by The Duke and Duchess of Cambridge when they chose their siblings, Pippa and Prince Harry as their maid of honor and best man. It seems likely that Markle will choose to have an adult MOH (or even an entire wedding party) which would break with tradition. Likewise, Prince Harry will probably forego "supporters" and ask his brother Prince William to reciprocate as his best man.
4. Everyone Wears the Traditional Attire
It is customary for the groom to wear military uniform, and the bride to wear a modest and sleeved dress by a British designer. Male guests wear military uniform, morning dress, or suits, while there is no dress code for female guests, except that they wear hats in the church.
6. Rules of the Rings
Royal and aristocratic men don't wear 'em. Prince Charles is the exception — he wore a wedding ring while married to Diana, Princess of Wales, and continued to wear it on his pinky after her death, until he remarried in 2005. All royal women have worn a wedding band made of Welsh gold since 1923, so it seems likely that Meghan Markle will also receive a band made from the family's stash.
7. A Bouquet With a Sprig of Myrtle
In 1840 Victoria carried a bouquet with sprigs of myrtle in it and following her wedding she planted a myrtle bush at the Osborne House on the Isle of Wight. Since then, all royal brides have had a sprig of myrtle from that very bush "the herb of love" in their bouquet. Beginning with the Queen Mum, royal brides have left their bouquet at the grave of the unknown warrior at Westminster Abbey, but since Prince Harry and Meghan Markle won't be wed in London, she most likely won't be able to follow this tradition.
7. The Fruitcake
You better like fruitcake, because that's the the tradition for the royal wedding cake. Prince William and Catherine also had a second chocolate biscuit cake (Prince William and the queen's favorite). Rumor is that Harry and Meghan are going with banana, although it remains to be seen if they'll do the traditional fruitcake, too. Rest assured, guests will be well-fed: As an event and floral designer, I'm usually long gone by the time my couples cut the cake, so the fact that a slice of royal wedding cake is mailed to guests in a commemorative tin is hands-down my favorite royal tradition.
8. The Couple Earns Their Titles
The queen will likely make Prince Harry a Duke upon marriage, and since royal women take their husbands title, that will make Meghan a Duchess. ("Princess" only precedes your name if you are born one.) Currently, the internet's most loyal royalists seem to think Harry and Meghan will end up The Duke and Duchess of Sussex.